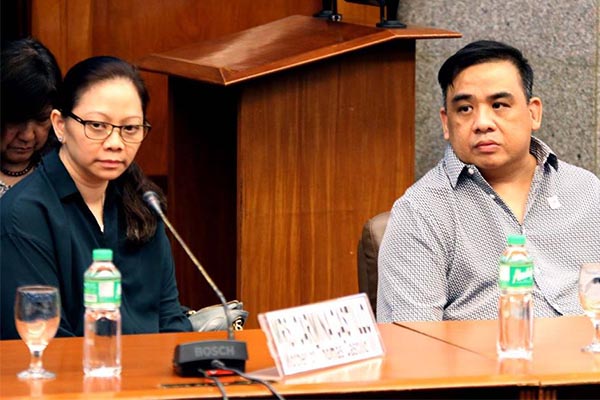 The DOJ has started the preliminary probe on the murder, anti-hazing complaint filed by Atio's parents and the Manila Police District against members of the Aegis Juris Fraternity. Senate PRIB
Dean Nilo Divina prods Atio's parents to find truth instead of giving in to lawyer's whims
(philstar.com) - October 4, 2017 - 9:15am
MANILA, Philippines—University of Santo Tomas law dean and Aegis Juris Fraternity member Nilo Divina said that the parents of hazing victim Horacio "Atio" Castillo III may be giving in to the whims of their lawyer, instead of finding the truth about their son's death.
As the Department of Justice started the preliminary investigation probe on the murder, anti-hazing raps against members of the Aegis Juris Fraternity, Atio's parents manifested that they want Divina and other UST officials to be included as respondents in the case.
Lorna Kapunan serves as the lawyer of Atio's parents, private complainants in the case. They filed murder, anti-hazing and robbery complaints against John Paul Solano, primary suspect in the case, and 17 others.
But Divina, in a statement, said: "It's unfortunate that Atio's family is being manipulated by their lawyer into doing something that is patently baseless."
"Our objective should be to find justice for Atio and find out the truth. Instead the obvious objective is now to lay the blame on innocent people to further the lawyer's agenda," Divina added.
Divina has earlier said that he is considering if he should resign following the news of Atio's death due to hazing.
The Manila Police District, public complainant in the case, also manifested that they will bolster their complaint.
The DOJ gave complainants until October 9 to submit their supplemental affidavit complaint and additional evidence.
The panel of prosecutors, led by Assistant State Prosecutor Susan Villanueva, also gave the respondents until October 24 to file their counter-affidavits.
Primary suspect John Paul Solano also attended the hearing. He was earlier detained by the Manila Police District after his surrendered, but the DOJ ordered his release.
Atio, a 22-year-old University of Santo Tomas first year law student, is believed to be a victim of hazing of Aegis Juris Fraternity. His body was discovered sprawled on a sidewalk at Balut, Tondo in the morning of September 17. His body, covered in a blanket when found, sustained contusions in the upper arms and candle burn marks.
He was laid to rest on Sept. 27 at the Manila Memorial Park.