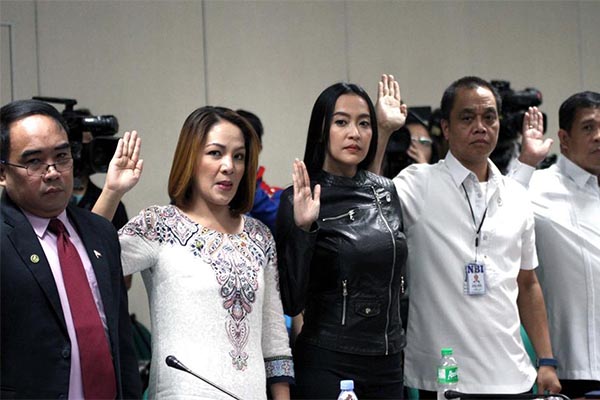 According to NBI, there is no government agency monitoring fake news. Officials of the Presidential Communications Office said that there has yet to be legal parameters to define fake news. Senate PRIB
No gov't agency monitoring fake news on social media, NBI exec says
(philstar.com) - October 4, 2017 - 8:47am
MANILA, Philippines — There is no government agency monitoring fake news sites proliferating on social media, a ranking government official said.
During the Senate probe on the proliferation of fake news on Wednesday, National Bureau of Investigation Cybercrime Division chief Manuel Eduarte said: "When it comes to social media, [there are] no government agency that monitors."
The Senate Committee on Public Information and Mass Media led by Sen. Grace Poe opened the hearing on the filed resolutions by several senators on the "Proliferation of Fake and/or Misleading News and False Information."
Irked Sens. Manny Pacquiao, Tito Sotto III, Cynthia Villar and Miguel Zubiri once again manifested their anger on news reports that said that they did not sign Senate Resolution 516 denouncing teenage killings.
They vented their ire at the Silent No More PH blog, which criticized the seven senators who did not sign the resolution. The seven eventually filed their own resolution "condemning in the strongest sense the extrajudicial killings."
Cybercrime
Pacquiao asked if a blogger has been prosecuted for spreading fake news.
Minority Floor Leader Franklin Drilon said that he had one blogger convicted of libel.
"There is a remedy available in this fake news."
According to the NBI, the office has received 2,279 cybercrime complaints in 2016. Eduarte said that 48 cases have been filed out of the said number of complaints.
For 2017, 1,515 complaints have been filed.
However, the NBI said the numbers pertain to complaints filed under the anti-cybercrime law which include cyber-libel and voyeurism among others.
"We are acting on complaints referred to us," Eduarte stressed, adding: "For our office, the fake news—it will result to libel. Libel is actionable by the office. Otherwise, we cannot act on it."
No definition of fake news
Communications Undersecretary Joel Egco, who was also invited as a resource person for the probe, lamented that the office "cannot stop people from sharing fake news."
Egco pointed that there has yet to be "clear and legal definition" of fake news. "Nagigng jargon siya. 'Pag nasaktan, nagalit, fake news siya."
He asked the Senate to define the "legal parameters of what fake news is."
Communications Assistant Secretary Ana Maria Banaag said that the Presidential Communications Operations Office "suggests the massive media and information literacy campaign would be implemented throughout the country."
"We are doing it on our end. We are reaching out to local government units, communicators in public and private to campaign on how to self-regulate," Banaag added.
Communications Assistant Secretary Mocha Uson was also invited as resource speaker in the hearing. Before assuming a public position, Uson was an influential Facebook blogger and supporter of President Rodrigo Duterte.
She has received flak for posting wrong information on her blog such as using a photo of Honduras troops instead of the Philippine Army, using a photo of a year-old news story to taunt opposition senators for their lack of sympathy to cops killed in action and propagating alleged offshore bank accounts of Sen. Antonio Trillanes IV, which Duterte later admitted to being fake.
Uson, however, maintained that her blog is not under the PCOO and she is just practicing her freedom of expression when she posts.