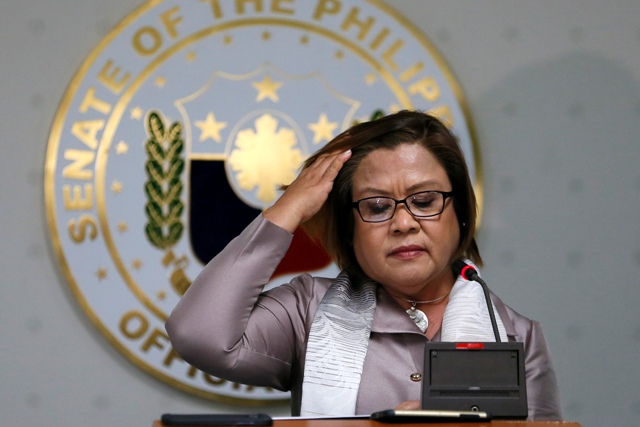 Detained Sen. Leila De Lima described Ombudsman Conchita-Carpio Morales and Chief Justice Maria Lourdes Sereno as "two women with balls." AP/Bullit Marquez, File
De Lima: Morales and Sereno have no reason to resign
(philstar.com) - October 4, 2017 - 4:45am
MANILA, Philippines — Ombudsman Conchita Carpio Morales and Chief Justice Maria Lourdes Sereno have no reason to resign amid the challenge of President Rodrigo Duterte for them to step down from office together.
Sen. Leila De Lima, detained on drug charges that she claims are motivated by politics, stressed this point in a statement on Wednesday, saying Morales and Sereno are "two women with balls."
"Duterte challenging OMB (Ombudsman) Morales and CJ Sereno to resign with him is neither here nor there," De Lima said. "The two have no reason to resign. They are perfectly in sync with reality performing their jobs, while Duterte continues to suffer from a mental disorder of epic proportions."
De Lima also noted "only a few good men are known to have balls" in Duterte's administration.
Duterte, over the weekend, dared Morales and Sereno to resign with him as he vowed not to recognize the investigation to be conducted by the anti-graft body on his alleged ill-gotten wealth.
"I challenge the two, we will go to Congress, in a simple ceremony, we sign the letter of resignation. Sige nga. Then let us open all the books, including yours," Duterte said.
Duterte accused both Morales and Sereno of corruption.
He also slammed Morales for being involved in corruption and for executing "selective justice."
Remaining unfazed amid threats, Morales on Tuesday said she will "not be baited into abandoning my constitutional duties."
READ: Morales: I'm ready to face Duterte's accusations
The Office of the Ombudsman vowed to proceed with the probe.
Sereno's camp said the chief justice will not resign because "she has done nothing illegal, unlawful and impeachable."
'Duterte is in panic'
The detained senator said Duterte's call for Morales and Sereno to resign with him showed that the president is "in panic."
"He is, in military jargon for a general gone berserk, on a scorched-earth policy. Like General Jake 'Howling' Smith of his favorite Balangiga Bells, he is on a kill-and-burn rampage," De Lima said.
Last week, the anti-graft body announced that it was launching a fact-finding probe into the alleged billions of cash flow that the family of the chief executive supposedly transacted.serene
On August, De Lima accused Duterte of wanting Morales and Sereno removed from office to weaken the Office of the Ombudsman and the Supreme Court as independent institutions.
"He wants to hasten the removal from office of two women who dare to hold on to their independence, integrity and impartiality in the face of a president who expects and demands blind loyalty and kowtowing from everyone," she said.