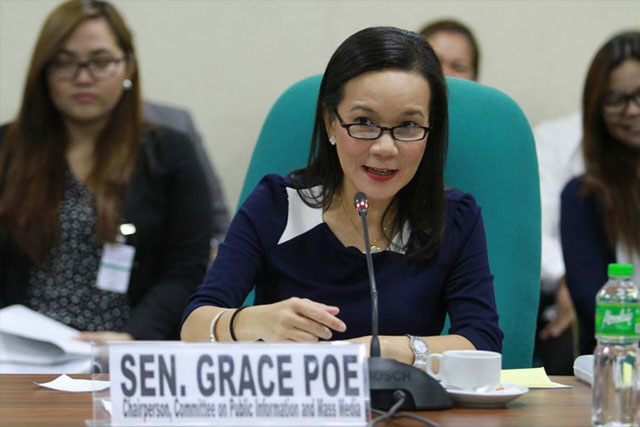 The Senate panel will tackle pending legislation on "fake news" and social media posts supposedly aimed at members of the Senate majority. Grace Poe staff/Release, File
Senate panel to hold hearing on 'fake news'
(philstar.com) - October 3, 2017 - 8:33am
MANILA, Philippines — Officials of the Presidential Communications Operations Office, digital influencers and journalists will face senators on Wednesday at a hearing on fake news and allegedly malicious blog posts.
According to an advisory from the office of Sen. Grace Poe, chairperson of the Senate Committee on Public Information and Mass Media, PCOO undersecretaries George Apacible and Joel Sy Egco have confirmed their attendance at the hearing.
PCOO Assistant Secretaries Margaux Uson, Ana Maria Paz Banaag and Tristan De Guzman have also confirmed their attendance as of Tuesday afternoon.
Lawyers Gilbert Santos and Janice Nadal of the National Privacy Commission and Leon Flores III of the Right to Know Right Now Coalition are also expected to attend while Inquirer.net editor-in-chief Abel Ulanday and Vera Files president Ellen Tordesillas will attend as resource persons from media.
Former Ateneo School of Government dean Antonio La Viña will also be attending.
Also attending are digital influencers Rey Joseph "RJ" Nieto of Thinking Pinoy, Franco Mabanta, lawyer Trixie Cruz-Angeles, Alessandra Marcos, Ethel Pineda and Butch Cabanban.
Among the matters to be taken up are a bill filed by Sen. Joel Villanueva seeking to penalize the malicious offering, publication, distribution, circulation and spreading of false news or information that "cause or tend to cause panic, division, chaos, violence, hate or which exhibit or tend to exhibit a propaganda to blacken or discredit one's reputation."
Under Villanueva's bill, spreading so-called fake news must be done "with full knowledge that such news or information is false, or with reasonable grounds to believe that the same is false" to be punishable by law.
The bill proposes fines of from P100,000 to P5 million and imprisonment for from oen to five years for offenders, with heavier fines imposed on government officials.
Failure to take down so-called fake news "within a reasonable period after having knowledge, or having reasonable grounds to believe, of its falsity" is punishable with a fine of from P10 million to P20 million under the proposal. Officers of media companies face imprisonment of from P10 million to P20 million for failing to take down fake news.
Legislation on fake news
There are similar measures pending at the House of Representatives.
RELATED: Stiff penalties vs creators, purveyors of fake news sought
The Senate panel is also expected to tackle social media posts and blogs critical of seven senators who did not sign a resolution calling on the government to put a stop to and solve extrajudicial killings, especially of children.
The senators claimed they were not approached to sign the resolution and that they had been unfairly targeted online.
"I have never seen the shadow of this resolution. Paano magiging 'did not sign?' So obviously mukhang fake news ang dating nito," Senate Majority Leader Vicente Sotto III said, referring to the post of Facebook page Silent No More PH.
READ: After drawing flak, 7 senators also file resolution on EJKs
The office of Sen. Francis Pangilinan, a minority senator and author of the original resolution, has said there was no intention to exclude the seven senators.
Copies of the resolution had been e-mailed to the senators to seek their input on whether they wanted to sign or not.
It is yet unclear if Cocoy Dayao, the man accused by Nieto and others of being behind sites critical of President Rodrigo Duterte, will attend the hearing.
"Dayao, you know there's a problem. Tulungan ninyo kaming ipakalat sa news kasi yung address sa Batangas tapos in short hindi kami nakakuha ng confirmation from him. Kasi yung (LBC) ayaw i-deliver ng walang phone number and we only have the physical address in Batangas. So pinapakalat namin sa social media na 'you are wanted here. You can explain your side'," Poe said in an interview with reporters.
"Ako, I want to be very fair. This is the important thing about the internet, every blogger or kahit sino, you have a right to express yourself whatever your views are," she said. — Jonathan de Santos