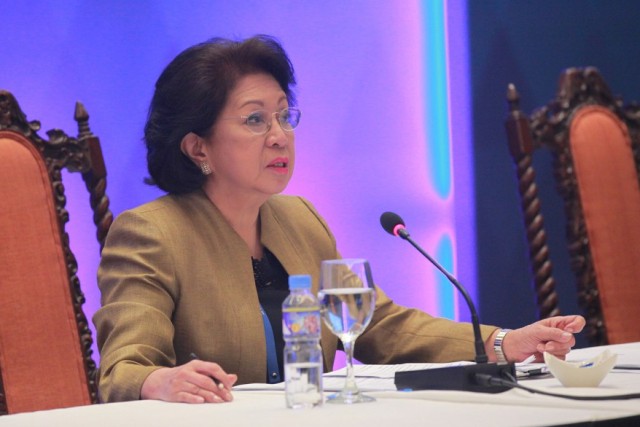 Ombudsman Conchita Carpio-Morales on Tuesday said she is prepared to face the President Rodrigo Duterte's charges against her. The anti-graft agency announced that it was launching a fact-finding probe into the alleged billions of cash flow that the family of the chief executive supposedly transacted. APEC/File
Morales: I'm ready to face Duterte's accusations
(philstar.com) - October 3, 2017 - 8:36am
MANILA, Philippines — Remaining unfazed, Ombudsman Conchita Carpio-Morales on Tuesday stood her ground amid the renewed call of President Rodrigo Duterte for her to resign.
"I will not be baited into abandoning my constitutional duties. If the President has charges against me, I am prepared to answer the charges against him in the same manner," Morales said in a statement.
The top corruption buster said that as a public official, she has sworn to uphold the rule of law.
"We should as well, serve with honor, honesty, and decency," she said.
On Saturday, Duterte dared Morales and Chief Justice Maria Lourdes Sereno to resign with him.
"I challenge the two, we will go to Congress, in a simple ceremony, we sign the letter of resignation. Sige nga. Then let us open all the books, including yours," Duterte said.
READ: Rody dares Sereno, Morales: Let's resign
The chief executive earlier warned that he would form a commission to investigate the supposed anomalies of the anti-graft body.
The president's threats came after the Office of the Ombudsman announced that it was launching a fact-finding probe into the alleged billions of cash flow that the family of the chief executive supposedly transacted.
Duterte slammed Morales for being involved in corruption and for executing "selective justice," claiming that while it is looking into accusations that he has unexplained wealth, it sat on similar complaints involving other officials in the past.
"I will not submit jurisdiction to the ombudsman because it's a lousy thing," the president said.
Duterte made the remark days after his spokesperson, Ernesto Abella, issued a statement saying that the president "respects the internal processes of the ombudsman as an independent body" and "trusts its impartiality in the conduct of its fact-finding duty."
READ: Duterte shuns ombudsman's probe, cries 'selective justice'
The Office of the Ombudsman, on Friday, said the agency "shall not be intimidated" and vowed to proceed with the probe.
Morales has inhibited herself from acting on any case filed against the first family.
Duterte's daughter, Davao City Mayor Sara Duterte, is married to Morales' nephew, lawyer Manases Carpio.