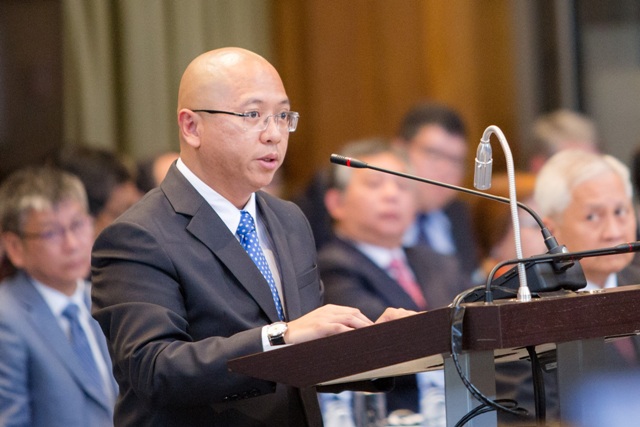 Former Solicitor General Florin Hilbay said that he will represent Sen. Risa Hontiveros in the anti-wiretapping case filed by Justice chief Vitaliano Aguirre II. PCA/Released
Hilbay "happy" to defend Hontiveros in "baseless" wiretapping case
(philstar.com) - October 2, 2017 - 4:00pm
MANILA, Philippines—Former Solicitor General Florin Hilbay is "happy" to defend Sen. Risa Hontiveros in the "baseless" anti-wiretapping case filed by Justice Secretary Vitaliano Aguirre II.
In a Facebook post, Hilbay pointed out that Aguirre's complaints stemmed from Hontiveros' reveal of his text conversation.
But the former solicitor general pointed out that: "Art. VI, Sec. 11 of the Constitution provides: "[N]o Member shall be questioned nor be held liable in any other place for any speech or debate in the Congress or in any committee thereof.'"
"The Department of Justice cannot question or hold liable Sen. Hontiveros for her privilege speech exposing the SOJ's clearly unethical conduct. That speech is protected by Art. VI, Sec. 11," Hilbay added.
READ: Accusing the accuser: Aguirre's complaint vs Hontiveros
Former Ateneo de Manila School of Government dean Antonio La Viña also pointed out the same. "Sen. Hontiveros cannot be held liable for any parliamentary speech and that includes any document, photo, etc that she uses in that speech," La Viña earlier told PhilStar.com.
Aguirre filed an anti-wiretapping complaint against Hontiveros before the Pasay City Prosecutor's Office on Monday morning.
The justice chief also filed a separate ethics complaint against Hontiveros at the Senate.
Hilbay said that he is "happy to represent Sen. Hontiveros in this totally unnecessary case, the baselessness of which is clear to any first year law student."
Aguirre accused Hontiveros of violating Republic Act 4200, a 52-year old law. The current anti-wiretapping law holds punishable secretly overhearing, intercepting or recording communication using a "dictaphone or dictagraph or detectaphone or walkie-talkie or tape recorder."
Hontiveros, during her privilege speech, only showed a photo that captured Aguirre holding his phone while exchanging the text message with former Rep. Jing Paras. The justice chief was ordering the former solon to expedite the case build up against the senator.