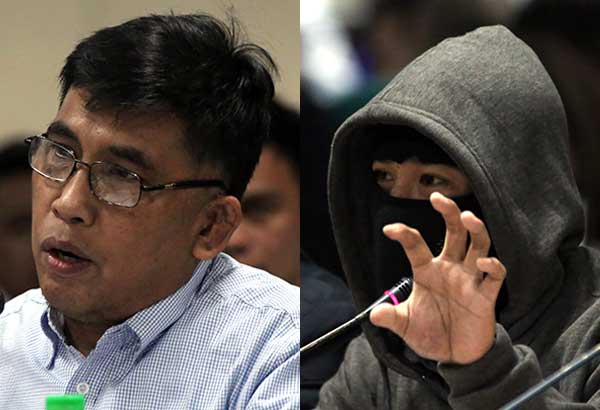 'Cops ordered killing of Carl'
Paolo Romero
(The Philippine Star) - October 2, 2017 - 4:00pm
MANILA, Philippines — The taxi driver whom student Carl Angelo Arnaiz allegedly tried to rob last month told the Senate committee on public order and dangerous drugs yesterday that one of the police officers in Caloocan had ordered Arnaiz's killing.
Driver Tomas Bagcal narrated that the 19-year-old Arnaiz and a younger companion, later identified as 14-year-old Reynaldo de Guzman, hailed his cab in Pasig City and asked to be brought to Caloocan.
As they reached 5th Avenue, Arnaiz allegedly announced the holdup with a knife held to Bagcal's neck.
As Bagcal parried the attack, he said both youngsters tried to flee, but a group of tricycle drivers noticed the commotion and apprehended the two with the help of barangay watchmen.
The two were then turned over to the nearest police station. After a few minutes, PO1 Prudencio Raras allegedly approached him and told him that the two will just be "thrown away" and made a sign of slitting his throat.
Bagcal said he just wanted the two turned over to the police but Raras reportedly insisted that he accompany them – a request that he complied with, fearing that he might suffer the same fate.
They drove to 10th Avenue, then towards Dagat-Dagatan, with Arnaiz and De Guzman in his cab and Raras in the front seat, the police officer again repeated his plan, with the same sign of slitting his throat.
He added that Raras at one point got irritated and spoke to him in Ilocano after finding out that they were from the same region. Raras later moved to a police vehicle with the two victims but Bagcal was still ordered to follow them.
It was at around 4 a.m. when they were nearing a gas station along C-3 road when he, standing behind an electric pole, saw Arnaiz kneeling with his hands raised and was shot by two police officers later identified as Police Officers 1 Ricky Arquilita and Jeffrey Perez.
Another witness, 21-year-old "Joe Daniel" also testified before the committee that he saw the killing at around 2 a.m.
He, too, said he was hiding behind an electric post near a gasoline station, which prompted Sen. Panfilo Lacson to ask why they did not see each other.
Because of the discrepancies in their testimonies, Sen. Grace Poe wanted to seek more witnesses to corroborate their statements.
Lacson proposed a re-enactment to try to reconcile the differing accounts.
Also yesterday, the parents of Kian Loyd delos Santos insisted on the charges they filed against the four Caloocan policemen – murder, torture, planting of evidence and violation of domicile under Article 128 of the Revised Penal Code – and the pieces of evidence, including the testimonies of witnesses, were enough to establish probable cause.
In a nine-page reply affidavit, Saldy and Lorenza delos Santos asked the Department of Justice (DOJ) to indict and reject the defense of Chief Insp. Amor Cerillo, Police Officer 3 Arnel Oares and Police Officers 1 Jeremiah Pereda and Jerwin Cruz that the killing came after Kian shot at them.
They cited the autopsy report that showed several gunshot wounds sustained at close range, including one near Kian's left ear, which they claimed disproves a shootout allegation.
Also submitted as evidence were CCTV footage, forensic exam results and the PNP-Internal Affairs Service finding of "excessive force" applied on the teenager.
The PNP-IAS earlier reported that Oares, Pereda and Cruz used their firearms "unlawfully and unjustifiably" even when there was "no apparent, direct and clear threats to their lives."
It added that this violated established rules and principles in conducting police operation.
Both the Public Attorney's Office and National Bureau of Investigation presented 16 eyewitnesses in earlier hearings. Most of them saw Kian already under police custody before he was shot dead.
While Pereda and Cruz pointed to Oares as the only one who shot Kian, the prosecuting lawyers believe that all of them should be held criminally liable as co-conspirators.
Kian's parents also dismissed the claim of Cerillo that he was erroneously charged in the complaint as they pointed to the PNP-IAS finding that the latter could be held liable for negligence as the supervisor of the precinct to which the three suspects belong.
The DOJ has set the next hearing on Oct. 10 for filing of the respondent's rejoinder before the case would be submitted for resolution.
Meanwhile, Lingayen-Dagupan Archbishop Socrates Villegas said policemen who allegedly participated in extrajudicial killings are seeking sanctuary with the Catholic Church.
"Law enforcers have come forward confidentially to us, their spiritual leaders, to seek sanctuary, succor and protection. They have expressed their desire to come out in the open about their participation in extrajudicial killings and summary executions. Their consciences are troubling them," said Villegas.– With Edu Punay, Evelyn Macairan