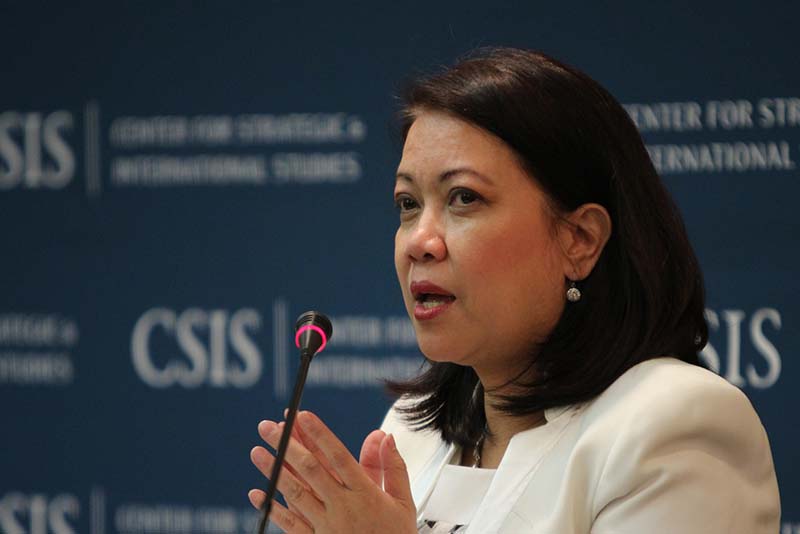 As she has done "nothing unlawful, illegal and impeachable," Chief Justice Maria Lourdes Sereno is not taking President Rodrigo Duterte challenge for her to resign, one of her spokespersons said yesterday. CSIS/CC BY-NC-SA
Sereno won't resign; Rody to bare evidence vs CJ
(The Philippine Star) - October 2, 2017 - 4:00pm
MANILA, Philippines — As she has done "nothing unlawful, illegal and impeachable," Chief Justice Maria Lourdes Sereno is not taking President Duterte's challenge for her to resign, one of her spokespersons said yesterday.
"What she wants is to continue performing her duties as chief justice of the Supreme Court," lawyer Josa Deinla said in an ambush interview at the House of Representatives after the filing of Sereno's rejoinder to Larry Gadon's impeachment complaint with the House justice committee.
Sereno's camp issued the statement in response to Duterte's call for her and Ombudsman Conchita Carpio-Morales to resign with him in his speech at the oath-taking of new members of the Integrated Bar of the Philippines (IBP) in Davao last Saturday.
At Malacañang yesterday, presidential spokesman Ernesto Abella said Duterte is convinced Sereno is corrupt, citing her supposed failure to declare the income she earned as a private lawyer representing the government in the Philippine International Air Terminals Co. Inc. case.
Sereno is currently on a month-long wellness leave. She is set to report back to work on Oct. 23.
In his impeachment complaint, Gadon accused Sereno of culpable violation of the Constitution and betrayal of public trust over alleged undisclosed assets in her statement of assets, liabilities and net worth (SALN) and extravagant spending of judicial funds by purchasing a P5-million Toyota Land Cruiser and traveling on first-class flights.
The complainant also cited as basis Sereno's order in 2012 to reopen a regional constitutional administrative office (RCAO) in Cebu without the collegial approval of the Court, which was later revoked by the SC.
Abella also said Duterte is convinced Sereno and Morales are allowing themselves to be used by groups determined to discredit him and have him ousted.
"In other words, he finds them suspect," he added, referring to Sereno and Morales.
"It may not be entirely everybody, but the office, apparently, is compromised."
On Saturday, Duterte said he would not submit to the jurisdiction of the ombudsman, which is looking into allegations that he has undeclared wealth.
The investigation stemmed from a complaint filed by Sen. Antonio Trillanes IV, a critic of the President. Duterte has denied the accusation, saying he is prepared to step down if proven that he or any member of his family is involved in corruption.
Waste of money
In a rejoinder to Gadon's impeachment complaint filed with the committee on justice, Sereno's lawyers said the House of Representatives should not waste taxpayers' money on it as it would only be a "fishing expedition."
"Public funds should not finance a proceeding where the complainant swears based on personal knowledge and authentic records, but then cites news reports and expresses the need to verify his facts later," a portion of Sereno's rejoinder read.
"The people's money should never fund a fishing expedition."
Defense lawyers insisted that Gadon, through his verified reply to Sereno's reply-affidavit, had "conceded" that some of his allegations "may not be impeachable offenses" and that other claims were "made without any evidence."
Gadon, for his part, challenged Sereno to issue an "unequivocal, straightforward waiver to all banks to fully disclose her bank accounts including all transactions, entries of deposits and withdrawals, dates of entries and transactions and current balances."
Chief presidential legal counsel Salvador Panelo, meanwhile, said that despite Duterte's harsh words for the ombudsman, there is no intention on his part to disrespect her.
"He is merely reprimanding the body for not following the appropriate procedure for investigation and strongly reminding it to strictly observe the process as mandated by law and its internal rules," Panelo said in a statement.
"The President is likewise admonishing the said office for what appears to be its policy of selective justice in that it sits on the plunder cases filed against the known allies of the previous administration while it pursues vigorously those of its enemies," he added.
Panelo said overall deputy ombudsman Arthur Carandang violated the code of conduct for government personnel when he made a public statement that his office had received bank transactions from the Anti-Money Laundering Council (AMLC).
"In light of these circumstances, it is now incumbent upon the President to fulfill his constitutional duty of stomping such violation of law as well as prosecuting violators thereof," he added.
Threat of exposure
Duterte reiterated his challenge to Morales and Sereno yesterday but went further by threatening to expose alleged corruption in the Office of the Ombudsman.
"You resign now, kung hindi huhubaran kita (or I'll expose you)," the President said during the unveiling of shelters for evacuees in Marawi City.
Duterte cited the case of police senior inspector Rolando Mendoza, who hijacked a bus with 24 passengers in Manila in 2010. The hostage crisis left eight Hong Kong tourists dead and seven others wounded.
"You remember the policeman who was killed? In Luneta? What did he say? He was asked to give money. He could not give anything so a case was filed against him," the President said.
"Ganoon kaloko-loko ang mga ombudsman diyan (That's how crooked the people in the ombudsman are)," he said.
Merceditas Gutierrez, not Morales, was the ombudsman at the time.
Duterte also claimed that a finance officer who could not pay was also charged.
"I just want the truth to come out. I want to know the cases dismissed because of payoffs because those without money were affected," he said.
Duterte also accused Morales of illegally obtaining bank records and of gathering evidence without the permission of the AMLC.
"Carpio should resign because she is corrupt and she has evidence that were gathered without the permission of the AMLC, illegally obtained," the President said.
Earlier, Trillanes said the ombudsman has AMLC records detailing the supposed flagged transactions in Duterte's bank accounts.
He also claimed that the President's bank accounts have more than P2 billion in deposits and credits.
The council has denied releasing documents used by Trillanes as basis for his complaint against Duterte.
Duterte said government personnel should not provide financial records without the approval of the courts.
"The ombudsman can ask (for documents) but in connection with a pending case," he said.
He also claimed that the erroneous calculation of amounts in bank transactions led to the impeachment of former chief justice Renato Corona.
"Corona was not given a chance. They did that to Corona and to the others," the President said.
Asked if Duterte would push for the impeachment of Morales, Abella said: "He has not yet made that statement, but he did say that he has made that position. In other words, there's no formal move yet to do that."
Abella cited a 2004 Supreme Court ruling, which stated that while the Office of the Ombudsman has the power to discipline its deputy and special prosecutor, the President also has concurrent authority to exercise disciplinary action. – With Delon Porcalla