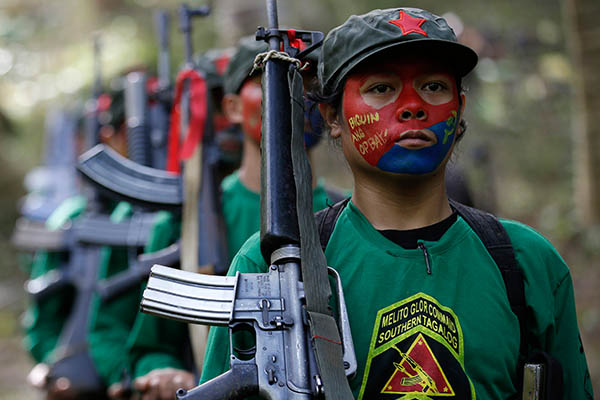 Attacks by the New People's Army happened days after President Rodrigo Duterte said the government would not gain anything from the peace talks with the communists. AP Photo/Aaron Favila, File
NPA attacks fuel public's doubt on peace talks, Palace says
(philstar.com) - October 2, 2017 - 8:46am
MANILA, Philippines — The recent attacks by the New People's Army further cast doubts on the prospects of the peace talks, Malacañang said Monday.
The rebels disarmed officials involved in counterinsurgency efforts in Sarangani and South Cotabato, kidnapped a tribe leader and a militiaman in Surigao del Sur, ambushed a military convoy and killed a policeman in Masbate last week.
The attacks happened days after President Rodrigo Duterte said the government would not gain anything from the peace talks with the communists.
"The NPA attacks in Sarangani, South Cotabato, Surigao del Sur, Palawan and Masbate fuels the public's doubt about the talks with the group," presidential spokesman Ernesto Abella said in a press briefing.
"The government will undertake appropriate steps to deal decisively with these forces that seem to have lost their sense of nation-building," he added.
Duterte called off the peace negotiations last July after the communist leadership ordered the NPA to attack government troops to resist Duterte's imposition of martial law in Mindanao. Duterte placed Mindanao under military rule after Islamic State-linked terrorists laid siege to Marawi City and held dozens of people hostage.
"If you (communists) want to resume the talks, I am not averse to the idea, but let me sort out first the other branches of government," the president said last September 16.
"Let's talk about it seriously. Do not be in a hurry because we have been fighting for the last 50 years. And you just cannot ignore that period of violence and killing on both sides. And you have to consider also the position of the military who invested and the police, who invested lives there," he added. — Alexis Romero