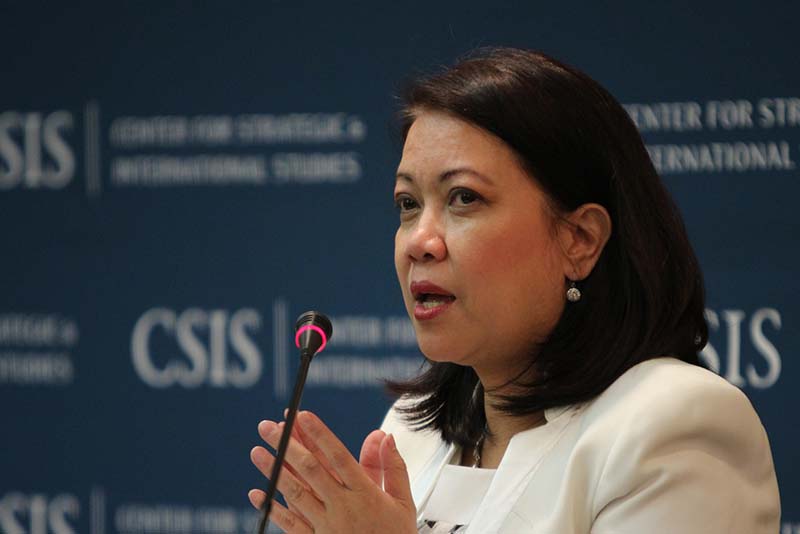 In this December 2012 photo, Chief Justice Maria Lourdes Sereno speaks at a CSIS forum. Sereno is the subject of an impeachment complaint filed by lawyer Larry Gadon. CSIS/CC BY-NC-SA
Sereno camp: Gadon's reply is 'tired and flaccid rhetoric'
(philstar.com) - October 2, 2017 - 9:33am
MANILA, Philippines — The camp of Chief Justice Maria Lourdes Sereno dismissed Larry Gadon's reply to their verified answer as "tired and flaccid rhetoric."
"No dose of irreverent and insolent language can ever palliate the impotence of the charges against the Chief Justice," Sereno's team of lawyers said on their 30-page verified rejoinder filed on Monday.
READ: Gadon on Sereno's answer to impeach rap: More lies!
The chief justice's camp, led by seasoned lawyer Alex Poblador, said Gadon's reply "has done nothing to help the Complainant's cause."
Gadon, in his 29-page reply filed on September 28, branded Sereno's defenses to his accusations as "lamentable lies and lame logic."
He added that Sereno's 85-page verified answer is "overflowing with legal jargon, semantics and technicalities to justify highly questionable acts that actually justify her impeachment and immediate removal from office."
READ: Point by point: Sereno answers impeachment complaint
Poblador pointed out that after the rejoinder is filed, the House of Representative's Committee on Justice would proceed to determine whether Gadon's complaint has "sufficient grounds for impeachment."
"This determination must be based solely on the pleadings and evidence submitted, and not on what the parties intend to prove at a possible hearing in the days to come," the rejoinder reads.
"In his Reply, Complainant repeatedly stated that his assertions 'will be verified later,' and that he will refute the Chief Justice's allegations at the 'evidence hearing,'" Poblador added.
Accusations against Sereno which, according to Gadon, "shall be verified later" include:
Sereno allegedly not calling Associate Justice Noel Tijam on his assignment on the transfer of Maute cases to an NCR court;
Sereno ordering Muntinlupa judges to not issue a warrant of arrest against Sen. Leila De Lima;
Sereno instructing Court of Appeals justices to not comply with the House of Representatives order on the Ilocos Six case;
Sereno preventing CA justices from paying a courtesy call on President Rodrigo Duterte.
Gadon noted that the said claims are "evidentiary in nature."
But Sereno's camp pointed out that House Majority Floor Leader Rodolfo Fariñas said that the impeachment proceeding against Sereno should "not be a fishing expedition."
"Under the House Rules, a hearing presupposes that the grounds of impeachment presented by the Complainant are already sufficient," Poblador said.
"The Hon. Committee should not put up with this mockery of House Rules," Sereno's team stressed.
Gadon, a Duterte youth lawyer and defeated senatorial candidate, wants Sereno impeached for committing culpable violation of Constitution, corruption, high crime and betrayal of public trust.
Sereno has denied the allegations and vowed that she would not resign for she has done nothing unlawful, illegal and impeachable.