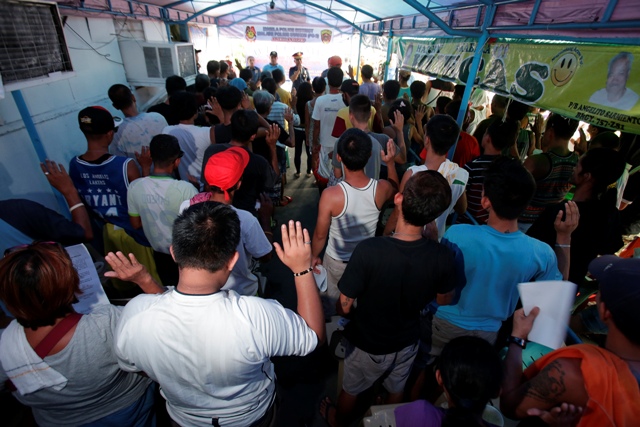 Supposed drug personalities surrender to authorities after their names turned up on drug lists. AP/Aaron Favila, file
DDB cautions police on launching own drug rehab program
(philstar.com) - October 1, 2017 - 11:59pm
MANILA, Philippines — The Philippine National Police may be spreading itself thin with the launch of its own drug rehabilitation program, according to the policy-making Dangerous Drugs Board.
The PNP is launching its "Life After Tokhang" or LIFT program on Monday, a community-based recovery and wellness program aimed to help 1.3 million people who surrendered to authorities after ending up on drug lists.
Chief Superintendent Dionardo Carlos, PNP spokesman, said in a GMA News Online report that the police initially focused on law enforcement, but will now also plan to provide rehabilitation with the help of NGOs and foundations.
The PNP has consulted NGO Life Rispondé Foundation Corporation for partnership in the LIFT program.
But, the DDB, in a statement last week said that although it "recognizes the efforts of the Philippine National Police in the campaign against drugs, the agency would like to caution it from implementing its own treatment and rehabilitation program."
The board said that in its August and September meetings, DDB Chairman Dionisio Santiago encouraged the PNP to focus on the law enforcement aspect of the government campaign against drugs. The PNP is a member of the DDB.
"RA 9165 or the Comprehensive Dangerous Drugs Act of 2002 mandates the Department of Health to be in charge of drug treatment and rehabilitation while DDB Regulation No. 4, Series of 2016 mandates Local Government Units to establish community-based treatment and rehabilitation," the DDB said.
"Each agency must contribute to the drug campaign according to its respective expertise and competencies. Otherwise, the anti-drug campaign may be imperiled and the effectiveness and quality of the (rehabilitation) programs may be adversely affected," the DDB quoted Santiago as saying.
The DDB is a multi-agency office with representation from the Justice, Health, Defense, Finance, Labor and Employment, Local Government, Social Welfare, Foreign Affairs, and Education departments.
The Commission on Higher Education and National Youth Commission are also members.
Law enforcement is represented by the Philippine National Police, National Bureau of Investigation and Philippine Drug Enforcement Agency.