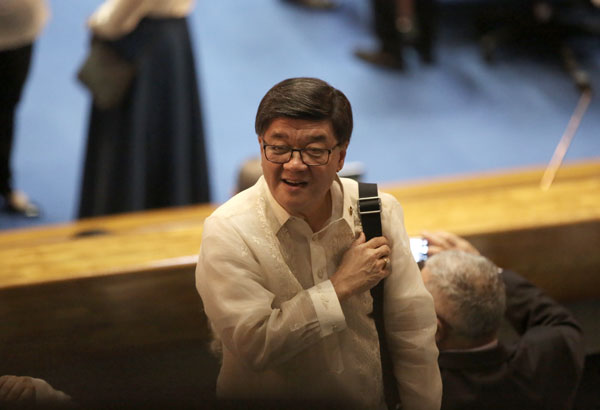 Justice Secretary Vitaliano Aguirre II yesterday reiterated his call for witnesses to come forward, assuring them of security under the witness protection program (WPP). Philstar.com/AJ Bolando, File
Wanted: UST hazing witnesses
Edu Punay
(The Philippine Star) - October 1, 2017 - 4:00pm
MANILA, Philippines — The government still has no witnesses in the fatal hazing of University of Santo Tomas (UST) law freshman Horacio Castillo III as the Department of Justice (DOJ)'s hearing on the criminal charges against members of the Aegis Juris fraternity starts this week.
Justice Secretary Vitaliano Aguirre II yesterday reiterated his call for witnesses to come forward, assuring them of security under the witness protection program (WPP).
"Whoever has information on what really happened (during the hazing) could just reach out to the DOJ or NBI (National Bureau of Investigation) and I assure them of protection under WPP," he said in an interview.
Aguirre said possible witnesses may call 0995-4429241, the hotline set by DOJ for Castillo's case.
"Witnesses and their testimonies are very crucial in criminal cases, especially during trial where they can establish the guilt of the accused… when corroborated and supported by physical evidence," he explained.
He stressed that while a preliminary investigation in the DOJ only requires finding probable cause to file cases in court, the presence of credible witnesses is necessary to build a strong case that would convince prosecutors to indict the respondents.
The justice chief earlier revealed that two potential witnesses went to his office but no longer returned due to fear for their lives.
"They did not come back anymore despite our assurance of security and coverage under WPP," he lamented.
Aguirre, a frat man himself, bared that the two – a member of the frat and a neophyte who was part of the batch of eight who underwent hazing prior to Castillo's initiation – only provided tips but did not submit affidavits.
The two allegedly told him that Castillo was not actually part of the batch that underwent the hazing rites and that members of the fraternity only "picked on him."
He also learned that senior members of the fraternity have prevented their members and neophytes from cooperating with authorities due to their Code of Silence.
The Manila Police District (MPD) earlier detained John Paul Solano, who was tagged as a primary suspect. But Aguirre ordered his release last Sept. 27 after finding that the arrest and inquest proceedings by the police were improper.
He and 17 others were charged before the DOJ for murder, violations of Republic Act 8049 (anti-hazing law), perjury, obstruction of justice and robbery.
Solano told investigators that he discovered the body of Castillo in Tondo and brought it to hospital. But in a Senate inquiry, he said he was called by their frat to revive the "half-dead" Castillo after the hazing rites.
His statements made Castillo's family expressed reservations on his credibility. His lawyer Paterno Esmaquel, a founding member of their fraternity, said Solano would submit an affidavit to the DOJ during preliminary investigation.
The lawyer said Solano has rejected the government's offer to be placed under the WPP or be given legislative immunity in the Senate, saying offers were unnecessary because his client is innocent of the charges.
"He will tell everything in his sworn statement to give justice to the death of Atio even without any immunity," Esmaquel said in a text message.
The panel of prosecutors chaired by Assistant State Prosecutor Susan Villanueva set the first hearing this Wednesday, Oct. 4.
Sixteen other respondents believed to be members of the UST law frat were also listed in the charge sheet for the same charges – Ralph Trangia and his father Antonio, Arvin Balag, Mhin Wei Chan, Ranie Rafael Santiago, Oliver John Audrey Onofre, Jason Adolfo Robiños, Danielle Hans Matthew Rodrigo, Karl Mathew Villanueva, Joshua Joriel Macabali, Axel Munro Hipe, Marc Anthony Ventura, Aeron Salientes, Marcelino Bagtang, Zimon Padro and Jose Miguel Salamat.
Trangia's mother Rosemarie was also included in the complaint for obstruction of justice. She flew with her son to the US a few days after the incident and before the DOJ could issue a lookout bulletin order.
Castillo reportedly died during an Aegis Juris hazing rite last Sept. 16.
His parents Horacio Jr. and Carmina will meet President Duterte this week.