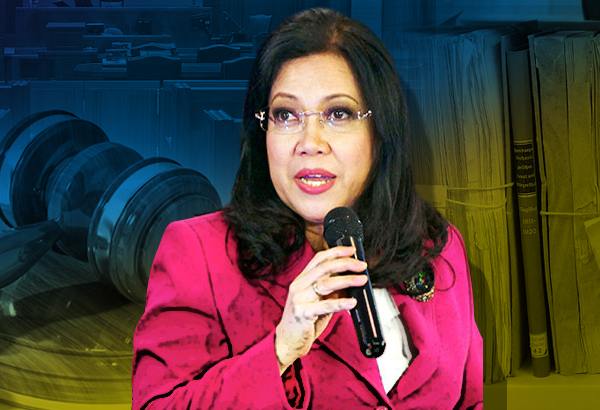 "It is the respondent, the Chief Justice herself, who has that right, not her lawyers. She has to attend the hearings if she wants to question the complainant and witnesses against her," said Rep. Reynaldo Umali. File
Sereno must counter impeachment herself — lawmaker
Jess Diaz
(The Philippine Star) - September 30, 2017 - 4:00pm
MANILA, Philippines — Defense lawyers cannot confront witnesses who will stand against Chief Justice Maria Lourdes Sereno during the impeachment hearings, the chairman of the House committee on justice said yesterday.
"It is the respondent, the Chief Justice herself, who has that right, not her lawyers. She has to attend the hearings if she wants to question the complainant and witnesses against her," said Rep. Reynaldo Umali.
Citing House rules, Umali said a lawyer representing a respondent or a resource person in an impeachment process or a committee hearing is not allowed to participate in deliberations.
A defense lawyer, he added, can only advise his principal on his rights, although there are rare times when the counsel is allowed to address the hearing committee.
But opposition Rep. Edcel Lagman disagreed, saying Umali might just have misinterpreted the rules on impeachment. He pointed out that "the right to counsel by the accused or respondent is enshrined in the Bill of Rights and the right of cross-examination through counsel is protected under Philippine jurisprudence."
The House impeachment rules, he added, do not state that only a respondent could grill witnesses.
"The role of the respondent's counsel in impeachment proceedings is vastly more important and proactive than that of a counsel appearing for a resource person or witness in investigations in aid of legislation," Lagman stressed.
Another opposition congressman, Tom Villarin of Akbayan, said the House would violate Sereno's rights if it bars her lawyers from questioning the complainant and witnesses.
"It is highly irrational to ask Chief Justice Sereno to do the questioning herself. She is the highest magistrate and has to perform her duties as well. While the House has the right to hear the impeachment complaint, in the determination of probable cause, it is sufficient that her lawyers do the cross-examination of the complainant and his witnesses," he explained.
Villarin added that if Umali's pronouncement were followed, "any Tom, Dick and Harry can hail an impeachable official to the House and 'shoot them at close range' even if the charges later are deemed unimpeachable."
"We know what can happen in a House hearing and weve seen what questions can be thrown, especially to women. While impeachment is a political process, it should not be subject to the absurd and ridiculous," he added.
Lawyer Lorenzo Gadon, who is identified with the Marcoses and former president and now Pampanga Rep. Gloria Macapagal-Arroyo, filed the impeachment complaint against Sereno. He claims that at least three Supreme Court justices would testify against the chief magistrate. – With Emmanuel Tupas