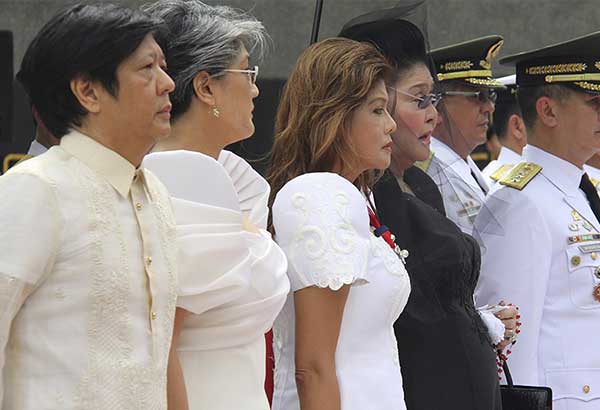 He said the President could not declare the two Marcos children "as sinless because they have been for a long time and until now culpable beneficiaries of the ill-gotten hoard of their father, the late dictator Ferdinand Marcos." AP/OACPA HPA, File
'Duterte can't absolve Imee, Bongbong'
Jess Diaz
(The Philippine Star) - September 30, 2017 - 4:00pm
MANILA, Philippines — President Duterte cannot clear Ilocos Norte Gov. Imee Marcos and her brother former senator Ferdinand "Bongbong" Marcos Jr. on martial law abuses, Albay Rep. Edcel Lagman said yesterday.
He said the President could not declare the two Marcos children "as sinless because they have been for a long time and until now culpable beneficiaries of the ill-gotten hoard of their father, the late dictator Ferdinand Marcos."
He was commenting on the President's statement that the Marcos children could not be held liable for the alleged sins of their father.
Duterte last Tuesday claimed that Bongbong and Imee were only children then. "Bata 'yan sila lahat. Ang matanda lang doon si Imelda pati si Ferdinand (Only Imelda and Ferdinand were adults)."
Lagman said although Imee and Bongbong "were teenagers when martial law was declared in September 1972, they attained the age of maturity shortly after the proclamation of martial law and they were already adults during the height of the martial law regime."
He said the two celebrated their 18th birthdays in 1973 and 1975, respectively.
"They were old enough when the documented atrocities and plunder were committed by the 'conjugal dictatorship' of Ferdinand and Imelda Marcos," he said.
He recalled that when Imee headed the Kabataang Barangay, she was accused of the murder of Archimedes Trajano, who was reportedly killed by her security escorts and found dead two days after an open forum where Trajano challenged the credentials of Imee.
"On Aug. 31, 1977, Trajano, a student of the Mapua Institute of Technology, questioned during a meeting at the Pamantasan ng Lungsod ng Maynila, Imee's capacity to lead the national youth organization which she assumed as the presidential daughter," Lagman said.
He said the Hawaii District Court awarded $4.16 million to the Trajano family in 1991, which award was affirmed by the US Court of Appeals, Ninth Circuit Court in 1992.
"The effort of the Trajano family to enforce in the Philippines the foreign judgment was quashed by the Philippine Supreme Court on the technicality of a defective substituted service of summons to Imee Marcos, who claimed that she was then a resident of Singapore when the summons was served at the Alexandra Homes in Pasig City, her reported address," he said.