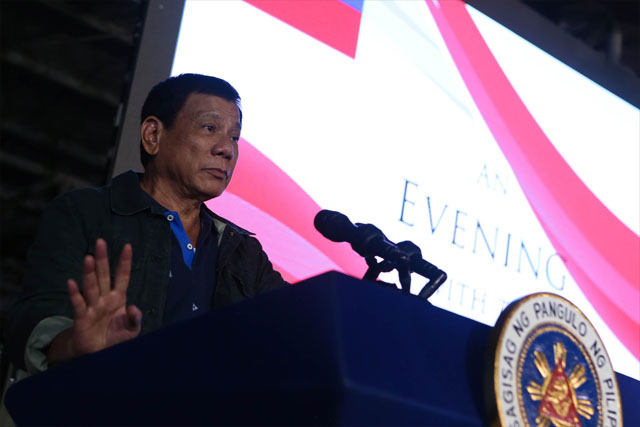 President Rodrigo Duterte on Thursday also revealed that the gangsters have given a "franchise" to the Abu Sayyaf in order to expand illegal drug operations here and abroad. PPD/King Rodriguez, File
'Blame gangsters, not China'
MANILA, Philippines — International gangsters, not China, are behind the illegal drug operations in the country, President Duterte said.
Duterte on Thursday also revealed that the gangsters have given a "franchise" to the Abu Sayyaf in order to expand illegal drug operations here and abroad.
He said the Chinese Bamboo Triad runs the illegal drug operations in the country, stressing the Chinese government and people have nothing to do with it.
Duterte clarified his earlier statement that China and Taiwan were behind the drug operations in the country through the Bamboo and 14-K triads.
China and Taiwan separately raised concerns and challenged Duterte to show proof of his claims.
"It's the gangsters of the Philippines and China combined – together (they) make the life of Filipinos miserable," he said.
Duterte said the gangsters have allied with local syndicates, manufacturing shabu in international waters while eluding detection and arrest by law enforcement agencies.
He said they have ships that manufacture the illegal drugs and simply dump them overboard to be retrieved and collected by groups that have the "franchise."
"They have a franchise given to the Abu Sayyaf because they provide the muscle in terms of weaponry and arms," he said.
Armed with guns, the Abu Sayyaf is able to cover its drug activities along with its trademark kidnapping and allegiance to Islamic State.
9,000 cops
Duterte bared anew the prevalence of illegal drugs in some localities that are given protection by corrupt local and barangay officials.
He said 40 percent of all barangays in the Philippines had been "contaminated" by illegal drugs due to the protection given by local officials and policemen.
Duterte said the problem of illegal drugs could not be dealt with easily because some 9,000 policemen are involved.
He said some of the policemen were used by slain mayors Reynaldo Parojinog of Ozamiz City and Rolando Espinosa of Albuera, Leyte.
Speaking during the 116th commemoration of the Balangiga encounter in Eastern Samar, Duterte said there will be no letup in his administration's campaign against illegal drugs.
Faced with public concern that human rights violations marked his anti-drug campaign, Duterte reiterated his call that the safety of the youth and the next generation is of "primordial" concern.
"And you know, if we do not fight the ills of our country – terrorism, drugs, which are destroying our children, the sacrifice made by our people would have been (all for) naught. And the reason we are really – I'm passionately against all forms of activities that will destroy the nation," he said.
The President said over 40 percent of the barangay captains all over the country are also into drugs, which somehow made him push for the postponement of the barangay elections from this October to next year.
With the youth as the nation's only asset, Duterte said he sees it important to save the next generation from the clutches of illegal drugs. – Edith Regalado