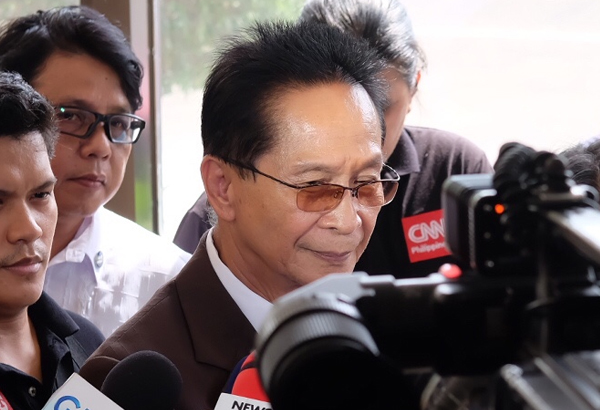 Lawyer Salvador Panelo reminds Overall Deputy Ombudsman Arthur Carandang to be prudent because he might face administrative sanctions for disclosing details of President Rodrigo Duterte's bank accounts. Philstar.com/Denison Rey Dalupang
Panelo: Carandang, Trillanes statements are fake
(Philstar.com) - September 29, 2017 - 6:40am
MANILA, Philippines – The Anti-Money Laundering Council's denial of providing a report on President Rodrigo Duterte's bank transactions only shows that Sen. Antonio Trillanes IV's allegations are fake, Chief Presidential Legal Counsel Salvador Panelo claimed Friday.
"Sa madali't sabi, peke iyong mga attachment na inilagay ni Trillanes sa kanyang complaint, peke din iyong mga pahayag ni Deputy Ombudsman [Arthur] Carandang," Panelo said in a radio interview with Radio Pilipinas.
This comes on the heels of the money laundering monitor's denial that it has provided the Office of the Ombudsman—that is reportedly investigating the alleged hidden wealth of President Rodrigo Duterte—with a report detailing the transaction history of Duterte's bank accounts.
"It (AMLC) has neither provided the Office of the Ombudsman with any report as a consequence of any investigation of subject accounts for any purpose," AMLC said in a statement.
Panelo earlier slammed Carandang for giving a "premature" disclosure of the documents the Ombudsman is said to be holding. He said that what Carandang did was against the Code of Conduct and Ethical Standards of Pubic Officials and Employees.
Carandang was quoted as saying that his agency received the president's bank records from 2006 up to 2016 from AMLC.
"We can confirm that we received bank transactions from AMLC," Carandang was quoted as saying. "There were P40 millions ... P50 million ... there were many."
Panelo warned: "We're just reminding him of their own internal rules, rules implementing the law. He might have forgotten it."
Carandang served as the chair of the Anti-Corruption and Transparency Network (ACT-NET) during APEC 2015. He also helped in drafting the United Nations Convention on Corruption in 2003.
Trillanes, one of the fiercest critics of Duterte, first alleged that Duterte had unexplained wealth during the national elections campaign in 2016.
Last February, Trillanes reiterated his claim and showed copies of bank documents believed to be Duterte's.
Duterte has repeatedly vowed to resign if corruption claims against him and his children are proven true. He has also said that if he cannot eliminate drugs in the country in 3 to 6 months, he will tender his resignation. That deadline has since lapsed.
Duterte said that he is looking into creating an investigating body to look into alleged corruption at the Office of the Ombudsman, which he has accused of being biased for the moribund Liberal Party.