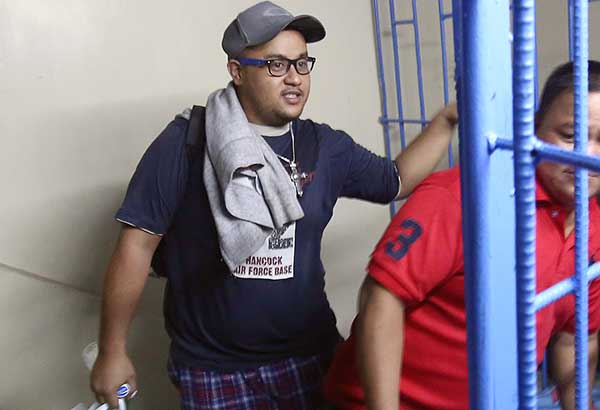 John Paul Solano, principal suspect in the killing of UST law student Horacio Castillo III, carries his belongings as he prepares to leave his cell at the Manila Police District headquarters yesterday. MIGUEL DE GUZMAN
Solano released, vows to tell the truth
(The Philippine Star) - September 28, 2017 - 4:00pm
MANILA, Philippines — After spending almost a week in jail for the hazing death of law student Horacio "Atio" Castillo III, John Paul Solano stepped out of his cell yesterday with a vow to tell the truth for the sake of justice as well as to prove his innocence.
"Rest assured… I will tell the truth," he told reporters moments after leaving his cell at the Manila Police District homicide section at past 1 p.m.
"I will shed light on stories and at the preliminary investigation, I will tell the truth," he said. "I will prove my innocence by telling the truth."
Two lawyers came to fetch him, one of whom was carrying a copy of the release order issued by the Department of Justice.
Members of the MPD-homicide section accepted the copy, as their chief Senior Insp. Rommel Anicete was with the team that searched the office of Aegis Juris Law Resource Center for evidence.
The enforcement of the release order was stalled because it did not include the charge for obstruction of justice in the list of criminal charges against the suspect.
The DOJ resolution only stated charges of murder, violations of Republic Act 8049 (Anti-hazing law), perjury and robbery.
MPD officials kept Solano in detention for a few hours while waiting for an amended resolution.
But the DOJ did not issue an amended resolution and just directed the police to release Solano immediately.
Senior Deputy State Prosecutor Richard Anthony Fadullon, head of the task force in charge of the case, coordinated with the MPD and explained there was no need for an amended release order.
"There was no need to include the obstruction of justice charge in the resolution because it was not yet resolved just like the other charges," he explained in an interview.
"Also, while obstruction of justice was included in the police's complaint, they also did not include documents or any detail to explain the said charge," the senior prosecutor stressed.
The DOJ reiterated that Solano's release did not mean that he was already off the hook in the criminal charges filed against him and 17 other individuals, mostly members of the Aegis Juris.
Preliminary investigation set
Fadullon said the respondents would have to answer the charges in preliminary investigation to be conducted by a panel led by Assistant State Prosecutor Susan Villanueva. The hearings were set for Oct. 4 and 9.
Solano was brought to the DOJ last Monday for inquest proceedings after he surrendered to the MPD last Sept. 22.
But the DOJ has found that his arrest was invalid because he voluntarily surrendered to the police. It also stressed that he could not be subject of inquest proceedings, which only apply to those arrested without warrant.
Another primary suspect who reportedly fled to Chicago a couple of days after the incident, Ralph Trangia, was slapped with the same set of charges of murder, violations of RA 8049, perjury, obstruction of justice and robbery.
Fifteen other respondents were also listed in the charge sheet for the same charges – Trangia's father Antonio, Arvin Balag, Mhin Wei Chan, Ranie Rafael Santiago, Oliver John Audrey Onofre, Jason Adolfo Robiños, Danielle Hans Matthew Rodrigo, Karl Mathew Villanueva, Joshua Joriel Macabali, Axel Munro Hipe, Marc Anthony Ventura, Aeron Salientes, Marcelino Bagtang, Zimon Padro and Jose Miguel Salamat.
Trangia's mother Rosemarie was included in the complaint for obstruction of justice. She accompanied her son to the US.
Police had originally treated Solano as a witness until "inconsistencies" in his statements to investigators prompted them to consider him as primary suspect.
In his original account, Solano claimed chancing upon an unconscious Castillo sprawled on a pavement in Tondo. He said a motorist helped him take Castillo to CGH. He identified himself to the CHH as medical technologist at the San Lazaro Hospital.
Later, Solano withdrew his affidavit when confronted with statements from barangay officials in Tondo that their CCTVs did not catch his encounter with Castillo.
Moreover, he would later turn out to be a law student himself and a member of Aegis Juris.
Police later announced that Solano "deliberately, intentionally and maliciously gave false statements to police."
At the Senate hearing last Monday, Solano argued he did not take part in the hazing and that he was summoned Sunday morning by fraternity members to help them revive an initiate who had collapsed.
On the release of Solano, MPD's Margarejo said they would wait for a copy of his counter-affidavit before drafting their own counter-reply for the upcoming preliminary investigation.
Meeting with Rody
A day after Castillo was laid to rest, his parents Horacio and Carmina met with Justice Secretary Vitaliano Aguirre II to seek assurance of swift justice for their son.
"We assured them that our prosecutors will be doing their best to resolve the case expeditiously. We can expect speedy hearings," Aguirre told reporters in a chance interview.
He said the couple had also sought an audience with President Duterte, which Aguirre said he was able to arrange and set for Wednesday next week, Oct. 4.
"They know that the people behind (their son's death) are moneyed and influential so they want to meet the President to allay their fear of possible miscarriage of justice," he said.
He also claimed the Castillos were not exactly rich, and that a doctor-uncle was financing Atio's law schooling.
The DOJ chief also claimed one of Atio's relatives had received death threats. He did not elaborate.