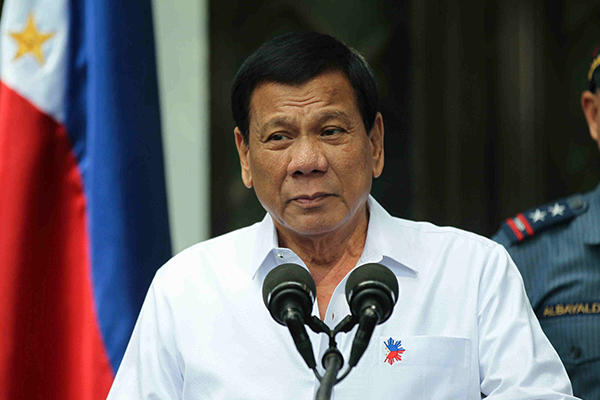 President Rodrigo Duterte on Thursday confirmed offering Martin Diño a post at the Department of the Interior and Local Government two days after he was replaced as chairman of the Subic Bay Metropolitan Authority. Simeon Celi Jr./Presidential Photo
Duterte confirms offering DILG post to Diño
(philstar.com) - September 28, 2017 - 12:13pm
MANILA, Philippines — President Rodrigo Duterte on Thursday confirmed offering Martin Diño a post at the Department of the Interior and Local Government two days after he was replaced as chairman of the Subic Bay Metropolitan Authority.
However, Malacañang said the "previous" offer to Diño has been "superseded."
Diño earlier said the Palace asked him to be undersecretary for barangay affairs under the DILG and that he has accepted this new post.
He added that he was disappointed that he was not properly notified that he was being removed from his post and his replacement had been selected.
READ: Palace: Diño not yet appointed to DILG, other gov't agencies
In an interview, Duterte said: "I offered him the undersecretary, 'yun talagang sanay siya. Barangay captain, dito ka, 'yun lang. Wala namang issue diyan."
Meanwhile, presidential spokesperson Ernesto Abella said the president's offer was "superseded" after the president signed an executive order that consolidated the powers of SBMA's administrator and chairperson.
"As far as I am privy to, the offer was made earlier, much earlier. However, that was apparently before this situation occurred, where he was replaced," Abella said in a press briefing.
"I don't know if it's withdrawn, but it has been superseded, as far as we can see," he added.
"As I was informed, there has been no official appointment as of yesterday."
According to Duterte, he ordered the consolidation of powers in SBMA because of a "bickering."
"It was not really the fault of Diño neither of the administrator but in the name of public interest, for the cohesive office, finuse ko, pinagdikit ko nang isa," he said.
READ: Duterte merges 2 top Subic Bay posts in new order
In a bid to end the squabble in the agency's leadership that had worried investors and traders operating in the port, Duterte also appointed lawyer Wilma Eisma as the agency's chairperson and administrator for a term expiring on June 30, 2022.
Duterte earlier designated Eisma as SBMA administrator in December last year—stripping Diño of the position that he held concurrently as chairman of the agency. The two leadership positions caused a power struggle between Diño and top SBMA officials, including deputy administrator Randy Escolango.
Diño created a stir within the agency after he claimed that his appointment as chairman made him concurrent SBMA administrator.
This prompted Senior Deputy Executive Secretary Menardo Guevarra to step in and appoint Escolango, a lawyer, as officer-in-charge, following Roberto Garcia's resignation as SBMA administrator.
Diño was the presidential candidate of PDP-Laban during the last elections until he was replaced at the last minute by Duterte, who was then Davao City mayor.