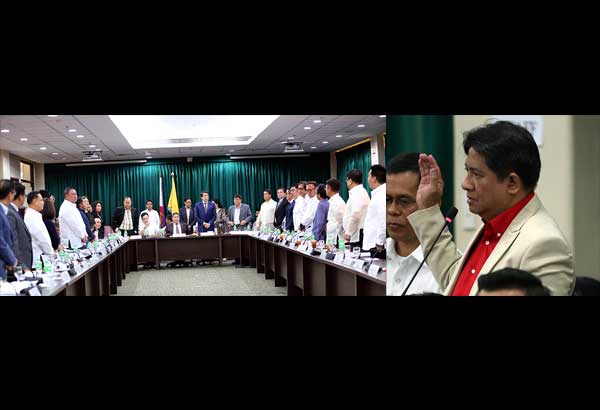 Duterte Youth lawyer Larry Gadon wants Sereno impeached for committing culpable violation of Constitution, corruption, high crime and betrayal of public trust. Boy Santos
Gadon on Sereno's answer to impeach rap: More lies!
(philstar.com) - September 28, 2017 - 10:10am
MANILA, Philippines — "More lies, more lies and more lies," said Larry Gadon on the verified answer filed by Chief Justice Maria Lourdes Sereno in reply to the impeachment complaint against her.
Gadon, a defeated senatorial candidate, filed his 29-page reply to Sereno on Thursday. He branded every answer of Sereno as "lamentable lies and lame logic."
Gadon said Sereno's answer, crafted by her team of lawyers led by Alex Poblador, is "overflowing with legal jargon, semantics and technicalities to justify highly questionable acts that actually justify her impeachment and immediate removal from office."
READ: Point by point: Sereno answers impeachment complaint
The Duterte Youth lawyer alleged that "power, authority and extravagance" have gone to Sereno's head.
"She has considered her lonesome self as the Supreme Court En Banc. She has considered her lonesome self as superior to both the Executive and Legislative Departments," Gadon said.
Gadon wants Sereno impeached for committing culpable violation of the Constitution, corruption, high crime and betrayal of public trust.
He accused Sereno of falsifying three SC resolutions and a halt order. He also said that Sereno betrayed public trust when she "usurped the mandate of the Court en banc by arrogating to herself alone the running of the Supreme Court and the Judiciary, thereby destroying the Supreme Court as a collegial body."
But the chief justice, in her answer, said her conduct "has in fact been zealously protecting the independence of the Judiciary as the third branch of Government."
Gadon also hit Sereno as she considered herself "as entitled to the extravagance that is fitting with her superiority, at the expense of public funds" for purchasing a Land Cruiser worth more than P5 million and for availing business class flights for her trips.
READ: Impeachment against Sereno raises political questions
Sereno, in her defense, said that the SC as full court approved the acquisition of the vehicle and it was "purchased to ensure the safety and security of the Chief Justice."
"Her seven (7) years in office, two (2) as an associate justice and five (5) (!!!) as a chief justice, are more than enough chances to show and prove her character. We have seen enough. We have experienced enough. It is time for her to go," Gadon added.
Sereno, who is the youngest to be appointed as the land's top magistrate, is set hang her robes on 2030.
Gadon prayed that the House of Representatives Committee on Justice would "[submit] a favorable report to the House of Representatives which in turn shall affirm the favorable resolution."
Earlier on Thursday, Sereno's camp filed a letter asking to be allowed to confront and cross-examine the resource persons against the chief magistrate.
READ: Lagman backs Sereno request to cross-examine witnesses