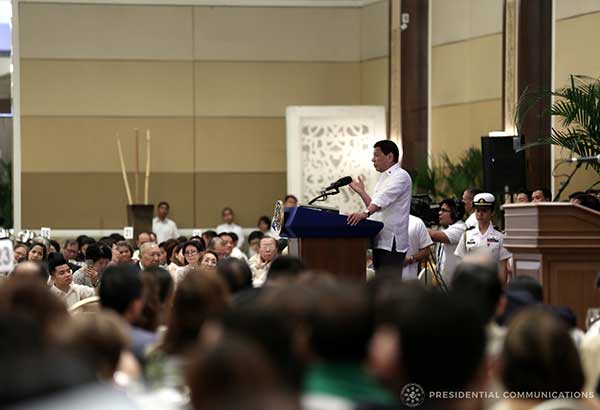 "The President respects the internal processes of the ombudsman as an independent body and trusts its impartiality in the conduct of its fact-finding duty," presidential spokesman Ernesto Abella said in a statement. SIMEON CELI JR./PRESIDENTAL PHOTO/Released
Palace welcomes probe of Rody's wealth
(The Philippine Star) - September 27, 2017 - 4:00pm
MANILA, Philippines — Malacañang yesterday welcomed the Office of the Ombudsman's move to investigate the alleged hidden wealth of President Duterte and his family.
"The President respects the internal processes of the ombudsman as an independent body and trusts its impartiality in the conduct of its fact-finding duty," presidential spokesman Ernesto Abella said in a statement.
"The President has nothing to hide," he added.
The ombudsman confirmed on Tuesday that it has launched an inquiry into activities in several of Duterte's bank accounts prior to his being elected president in the May 9, 2016 elections.
In a recorded television interview aired yesterday, overall Deputy Ombudsman Arthur Carandang said he has been authorized by Ombudsman Conchita Carpio-Morales to lead the investigation on the supposed wealth of the Duterte family allegedly hidden in several bank accounts.
Morales had earlier announced that she would inhibit in the investigation concerning any complaint against Duterte or his family as she and the President are related by marriage.
The Chief Executive's daughter, Davao City Mayor Sara Duterte-Carpio is married to Morales' nephew, Manases Carpio.
"Even when he was still mayor, I had already inhibited myself from acting on any case filed against the Dutertes and that is documented, since the President's daughter is married to my nephew," Morales said in a statement.
"So I authorized ODO Carandang to handle the cases involving the Dutertes, and I have full trust in his impartiality," she added.
Carandang said the investigation was launched after his office found sufficient basis on the complaint filed by Sen. Antonio Trillanes IV against Duterte during the campaign period for the May 9, 2016 presidential elections.
In his complaint, Trillanes alleged that Duterte has more than P2 billion of undeclared wealth in the form of deposits and credits under several bank accounts.
Carandang said the deputy ombudsman for Mindanao, who is leading the fact-finding investigation, has recently secured several bank documents from the Anti-Money Laundering Council (AMLC), which also found sufficient grounds to conduct its own probe on Trillanes' complaint.
"We can confirm that we received bank transactions coming from AMLC, bank transactions generated by AMLC," Carandang said.
The documents they obtained from AMLC, according to him, show that Duterte, as well as his sons Davao City Vice Mayor Paolo and Sebastian, and daughter Sara, have hundreds of millions of pesos worth of transactions in several banks from 2006 to 2016.
Carandang said the bank transaction records of accounts under the names of Duterte's common-law wife Honeylet Avanceña and their daughter Kitty were also obtained from AMLC.
Carandang, however, clarified that the amounts were in and out of the Duterte family's bank accounts for several years, thus, it is hard to ascertain the total amount of the deposits.
Carandang said his office has already requested the AMLC to furnish the former a copy of the latter's final investigation report on the Duterte family's bank accounts.
Duterte had earlier denied Trillanes' allegations and said that he is willing to step down from office if the senator can prove the existence of even half of the total amount of his alleged hidden wealth.
"If Trillanes can prove his allegation that I have amassed P2 billion illegally, or if that bank account under my name has a total deposit at one time of even just half a billion, I will resign as President immediately," Duterte earlier said.
As he denied the allegation that he and his family have amassed ill-gotten wealth, the Chief Executive said he earned money from the sale of real property he had inherited from his father, former Davao governor and Marcos Cabinet member Vicente Duterte.
The President also claimed that because of the inheritance, he already had millions when he was still a student.
"I authorized everybody, everybody as in everybody, to look — to dig into the Insular Bank of Asia and America. That's the Union Bank now," he said in a speech in Pasay last Tuesday.
"You'd find there, I was still in my fourth year, I had a million already. That's true. For those who are envy, you know, I'm sorry if you are a son of a very poor. I don't know from where you come," he added. – Alexis Romero, Elizabeth Marcelo, Reuters