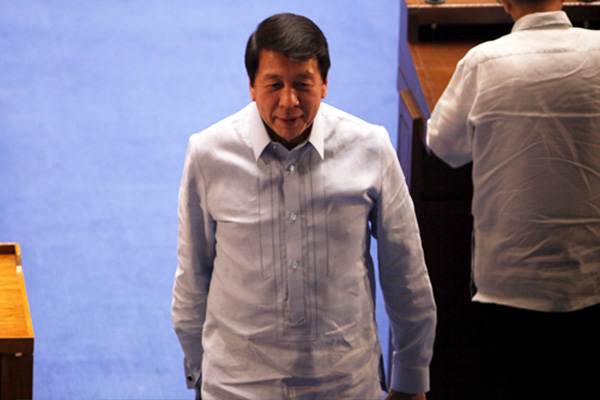 House Majority Leader Rep. Rodolfo Fariñas wants Congress to have its own police force that will ensure the safety of the members and enforce powers of contempt and subpoenas. Last week, he drew flak for telling MMDA that lawmakers should accord them with immunity whenever they violate traffic laws. Philstar.com/AJ Bolando, File
After immunity from traffic violations, Fariñas now wants own cops for Congress
(philstar.com) - September 26, 2017 - 8:16am
MANILA, Philippines — House Majority Leader Rep. Rodolfo Fariñas sought to create a police force that would protect the members and properties of the Congress a week after wanting lawmakers to have immunity from traffic violations.
House Bill 6208 proposed to establish Philippine Legislative Police (PLP), which would be responsible for ensuring lawmakers' safety and enforcing Congress' powers of contempt and subpoenas.
"Attending various meetings and looking after their constituents are indispensable part of their duties. Inherent to their functions as legislators and politicians are part of their duties," Fariñas said.
According to the bill's explanatory note, the Congress relies on the law enforcement agencies under the executive branch to enforce and execute its contempt orders and warrants as the Congress does not have enough manpower to provide security to its members.
"The reliance of Congress on the law enforcement agencies of the executive department in the protection of its members and the enforcement and execution of its powers impairs, to a large extent, the independence of Congress from the executive department," he said.
The bill also proposed that PLP officers be given the same qualifications, salaries and benefits, retirement age and equivalent rank of members of the Philippine National Police.
Last week, Fariñas drew flak for telling the Metropolitan Manila Development Authority to accord them with parliamentary immunity whenever they violate traffic laws.
READ: Congressmen above traffic rules – Fariñas
To explain the House's directive, he quoted the constitutional provision stating that senators and congressmen cannot be held liable—or arrested—if the offense committed is punishable with less than six years imprisonment.
But Bayan Muna party-list Rep. Carlos Zarate reminded Fariñas that lawmakers should not be above the law.
"Dapat ay ay maging huwaran ang mga mambabatas para tuparin ang mga ito," Zarate said in a statement.