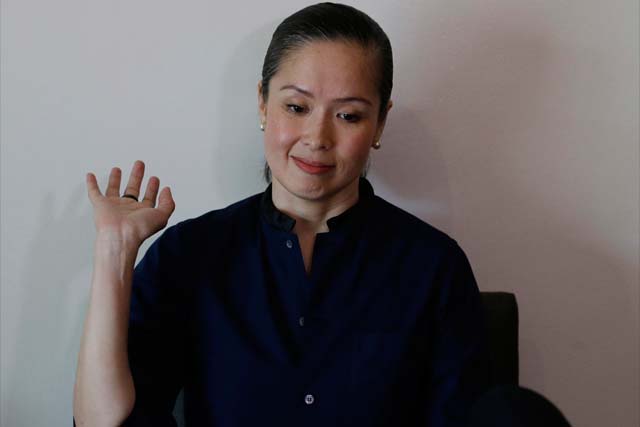 In this Aug. 4, 2017 photo, Patricia Paz Bautista, the estranged wife of Philippine elections chief Andres Bautista breaks into tears during an interview in metropolitan Manila, Philippines. Her husband, Andres, has filed criminal complaints against her after she publicly accused him of amassing unexplained wealth and receiving commissions from a law firm whose clients include a company that provided vote-counting machines in last year's presidential polls. AP/Aaron Favila, file
Tish Bautista seeks disbarment of Divina, 20 others
(philstar.com) - September 26, 2017 - 4:12am
MANILA, Philippines – Patricia "Tish" Bautista, estranged wife of poll chief Andres Bautista, has filed disbarment complaints at the Supreme Court against UST Faculty of Civil Law Dean Nilo Divina and 20 others from Divina Law for allegedly giving her husband commissions.
The move comes after the House of Representatives' junked the impeachment complaint against Commission on Elections Chairman Bautista.
Patricia earlier accused the poll chairman of receiving commission checks from Divina Law for referring companies such as Smartmatic, Baseco and United Planters Bank as potential clients.
Chairman Bautista was with Divina Law before joining government in 2010 as the youngest chair of the Presidential Commission on Good Government.
The same claim of corruption was among the camp's grounds for seeking Andres' impeachment from the Comelec.
The complaint was later junked by the House Committee on Justice, voting 26-3, for being insufficient in form.
But Divina, in statement, remained unfazed by the disbarment complaint: "We have always acted in accordance with the law and the ethical demands of the law profession."
"They are probably sour that their impeachment complaint was dismissed," Divina added.
He said that he has yet to read the complaint but will "respond appropriately" once he sees the complaint in full.
Patricia earlier accused her husband of amassing about P1 billion of unexplained wealth that is not declared in Andy's Statement of Assets, Liabilities and Net Worth.
Andres, for his part, said his wife was trying to extort money from him. He said his estranged wife even stole cash, checks, and other financial documents from him and his family.
Justice Secretary Vitaliano Aguirre II ordered the National Bureau of Investigation and Bureau of Internal Revenue to look into violations that Chairman Bautista, an Aquino appointee, may have committed.
The two agencies have yet to file any complaints against Andres.