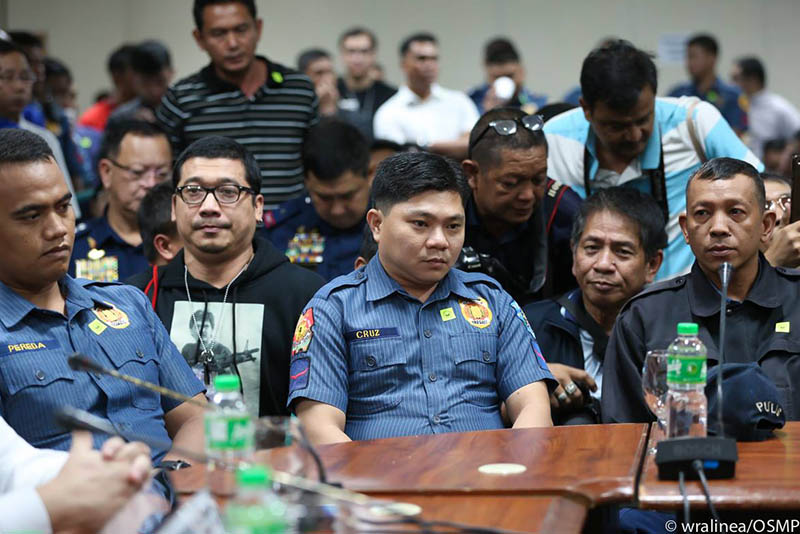 The four policemen tagged in the killing of Grade 11 student Kian Loyd delos Santos during an anti-narcotics operation in Caloocan City last Aug. 16 have denied criminal charges against them before the Department of Justice. OSMP/Wendell Alinea, File
4 cops in Kian slay deny murder, torture raps
Edu Punay
(The Philippine Star) - September 25, 2017 - 4:00pm
MANILA, Philippines — The four policemen tagged in the killing of Grade 11 student Kian Loyd delos Santos during an anti-narcotics operation in Caloocan City last Aug. 16 have denied criminal charges against them before the Department of Justice (DOJ).
In a preliminary investigation hearing yesterday, Chief Insp. Amor Cerillo, Police Officer 3 Arnel Oares, and Police Officers 1 Jeremiah Pereda and Jerwin Cruz of Caloocan City police community precinct 7 sought the dismissal of the murder and torture charges filed by Kian's parents for lack of probable cause.
They insisted that they shot Kian after he supposedly shot them with his firearm.
"His death is an isolated case because out of the four minors who got involved in 'Oplan Galugad' on Aug. 16, 2017, it (was) only Kian delos Santos who ran away and worse, engaged our police officers in a shootout," their joint counter-affidavit read.
The policemen also cited the failure of the complainants to establish conspiracy among them in the killing of Kian to make them liable for murder.
"There is no evidence of conspiracy. Nobody among the number of witnesses presented by the complainants testified that a conspiracy among the respondents transpired," they claimed.
"All of the witnesses of the complainants have executed their sworn statements and not a single one of them ever mentioned that the respondents conspired when they speak of the killing of Kian Loyd delos Santos," they added.
In the previous hearing, lawyers of Kian's parents led by Public Attorney's Office (PAO) chief Persida Rueda-Acosta presented witnesses before the investigating panel of prosecutors.
The witnesses, whose names were withheld for security reasons and who all appeared with faces covered with scarves, affirmed their respective affidavits in support of the allegations against the four police respondents.
Among them was an eyewitness who saw Kian already under custody of the respondents before he was shot dead.
The minor witness who has been with the custody of the Caloocan diocese also appeared at the hearing.
The PAO also submitted to the DOJ panel the closed circuit television footage in the area operated by the barangay and results of the forensic exam conducted by the PAO indicating that Kian was lying face down when shot three times – twice in his head and once at the back.
Acosta asked the prosecutors to summon records of the Philippine National Police to identify the other policemen who joined the Oplan One Time-Big Time anti-illegal drug operation last August and who would also be named respondents in the complaint.
The panel has set succeeding hearings on Oct. 2 and 10 for filing of reply and rejoinder, respectively.