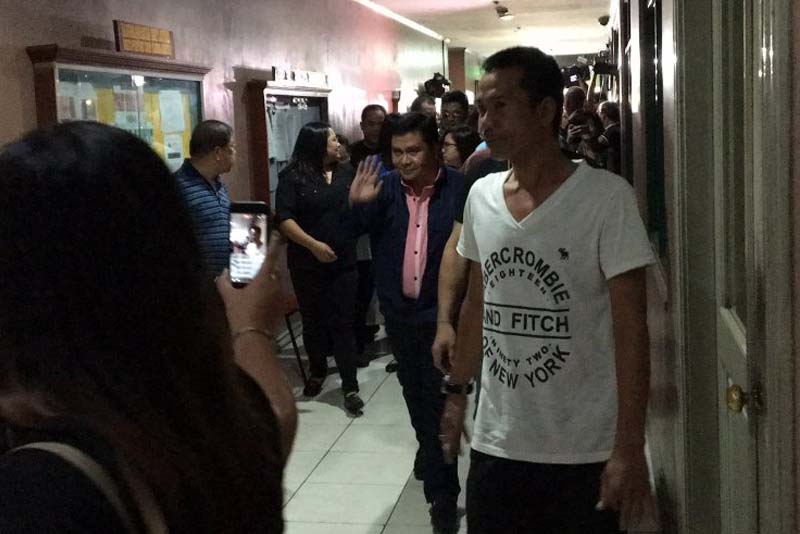 In this Sept. 16, 2017 photo, former Sen. Jinggoy Estrada arrives at Sandiganbayan to complete his bail procedure. He was detained for alleging pocketing P183 million in pork barrel while a legislator. STAR/Elizabeth Marcelo
Out on bail, Jinggoy to go on 'thank you' tour in Visayas
MANILA, Philippines — Former Sen. Jinggoy Estrada is set to push through with his nationwide "thank you" tour he first announced when he was released from detention after he posted P1.3-million bail bond for his plunder and graft cases on September 16.
"Maybe next month or two months from now. I will start in Visayas," Estrada said on Monday after attending the first day of the formal trial of his 11 counts of graft in connection with his alleged involvement in the multibillion-peso pork barrel fund scam.
Asked why will start the tour in the vote-rich Visayas region, Estrada replied: "Meron akong personal reasons for it (I have personal reasons for it)".
Estrada had earlier deflected the questions on whether he plans to go back into politics come 2019 elections.
"We'll cross the bridge when we get there," he earlier told reporters.
He said, however, that he intends to go around the country to thank his constituents and supporters who prayed and expressed support while he was in detention for more than three years.
On the first day of the trial of his graft charges on Monday, the Office of the Ombudsman's prosecution team presented Ma. Lourdes Arbas, director of the Office of the Senate Secretary.
Arbas testified on the authenticity of the Statement of Assets, Liabilities and Net Worth (SALNs) of Estrada from 2004 to 2013 which remains in her custody. The SALNs supposedly show that from P81 million in 2004, Estrada's net worth grew to P195 million in 2013.
Meanwhile, another prosecution witness, Marissa Santos, chief administrative officer of the Department of Budget and Management Special Records Division, testified that several Special Allotment Release Orders were issued by DBM following Estrada's endorsement of several non-government organizations as the implementers of his projects funded by his Priority Development Assistance Fund or pork barrel.
Estrada's lawyers objected to the testimonies of the two witnesses due to supposed "irrelevance and immateriality."
The defense argued that the presentation of Estrada's SALN has no relevance to the allegation that he misused his PDAF funds by allocating it to the bogus NGOs supposedly owned by the alleged pork barrel scam mastermind Janet Lim-Napoles.
The defense further pointed out that the processing and issuance of the SAROs "is the exclusive function of the executive branch of the government upon which Senator Estrada has no control or supervision."
The trial of Estrada's graft charges is set to continue on October 23, while the trial of his plunder case is set to start on October 2.
Estrada is accused of receiving P183-million worth of kickbacks by allocating portions of his PDAF to bogus NGOs linked with Napoles.