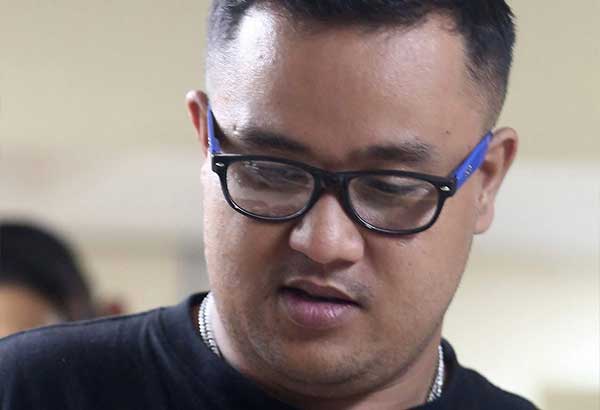 Solano surrendered on Friday to the Manila Police District through Sen. Panfilo Lacson and denied taking part in beating Castillo in hazing rites by the Aegis Juris fraternity. He said he was called by his fraternity brothers to the house where the hazing rites were held to give emergency medical assistance to Castillo. MIGUEL DE GUZMAN, File
Multiple criminal raps filed vs Aegis Juris fratman Solano
(philstar.com) - September 25, 2017 - 3:19am
MANILA, Philippines (Updated 1:52 p.m.) — Murder, hazing, perjury, robbery and obstruction of justice complaints were filed against John Paul Solano, one of the primary suspects in the apparent fatal hazing of Horacio "Atio" Castillo III.
Solano, who was accompanied by officers of the Manila Police District, arrived at the Department of Justice on Monday morning to undergo inquest proceeding. He had been detained at the MPD since Friday after surrendering through Sen. Panfilo Lacson.
Atio's parents, Carmina and Horacio Castillo II, also arrived at the DOJ for the inquest.
Speaking to reporters, Solano insisted that he is innocent and promised to provide information on what he knows on Atio's death.
Assistant State Prosecutor Susan Villanueva leads the panel of prosecutors in conducting the inquest proceeding of Solano.
Paterno Esmaquel, counsel for Solano, stressed that his client made a "voluntary surrender," since he "is not a subject of warrantless arrest."
"Please make it of record that I, as legal counsel of Mr. Solano, was never informed that he will be made to execute a judicial affidavit. I have no participation, no knowledge of that judicial affidavit," Esmaquel added.
Senior Superintendent Napoleon Coronel, MPD chief, said that the affidavit Esmaquel was pertaining to was Solano's affidavit when he appeared before the MPD as a witness who found the Atio's body.
Solano brought the lifeless body of Atio, believed to be a victim of fraternity hazing, to the Chinese General Hospital on September 17.
Solano initially said that he just found the body on a sidewalk in Balut, Tondo, but it was later found that he is also a member of Aegis Juris.
Solano surrendered on Friday, September 22, through the Office of Sen. Panfilo Lacson.
He was accompanied by UST Law Dean Nilo Divina, also a member of Aegis Juris Fraternity.
Upon facing the media, Solano apologized to Castillo's parents for "giving a false statement" on Atio's death.