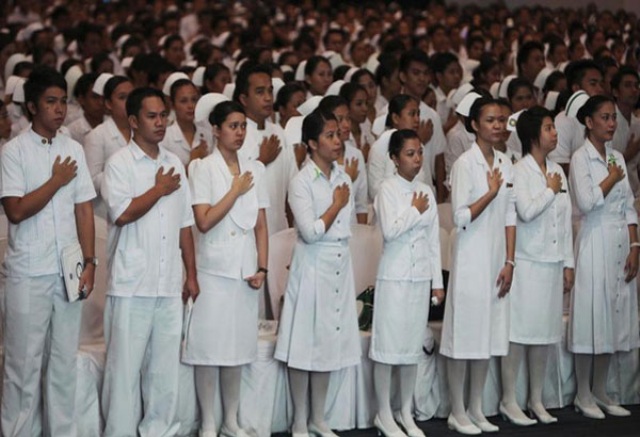 Nurses and other health workers in private medical facilities nationwide will no longer be required to work for more than eight hours a day and will enjoy two days off per week or additional compensation. File
Shorter hours, 2 days off for nurses, health workers
MANILA, Philippines — Nurses and other health workers in private medical facilities nationwide will no longer be required to work for more than eight hours a day and will enjoy two days off per week or additional compensation.
The Department of Labor and Employment (DOLE) issued on Sept. 22 Department Order 182 prohibiting long working hours for health workers.
Labor Secretary Silvestre Bello III said the DOLE issued the new DO to ensure the protection and welfare of health workers in private medical facilities.
Under the new guidelines, health personnel working in hospitals and clinics with a bed capacity of at least 100 shall hold eight regular working hours a day for five days a week.
"Except where the exigencies of the service require that such personnel work for six days or 48 hours, they shall be entitled to an additional compensation of at least 30 percent of regular wage," Bello said.
Employers are also required to provide health personnel not less than one hour of non-compensable time off for regular meals. Meal periods of not less than 20 minutes are allowed provided that shorter meal periods are credited as "compensable hours worked."
The DOLE said rest periods or coffee breaks from five to 20 minutes shall also be considered as compensable working time.
Employers are mandated to consult with workers' union concerning details of night work schedules. Changes in schedule shall be agreed upon prior to implementation.
Waiting time such as endorsement period spent by health personnel shall be considered as working time.
A health personnel required to remain on call within the employers' premises is also considered working time.
According to Bello, compressed work scheme cannot be adopted in health services or in occupations exposed to airborne contaminants or toxic chemicals.
The DOLE also said that health personnels shall be entitled to wages not lower than the minimum wage rates as well as holiday pay, night shift pay, five-day paid incentive leave a year and 13th month pay.
Health personnel shall be granted all the benefits provided under existing labor laws. No deduction shall be made from the salary of health personnel except for SSS, Pag-IBIG, PhilHealth contribution, withholding tax and union dues.