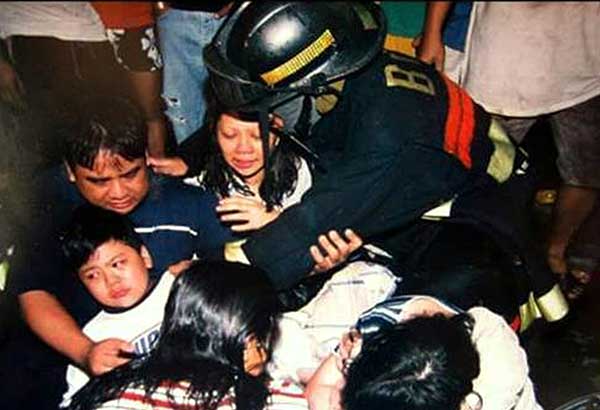 In a photo posted on Facebook by Fire Officer 2 Lords Hernandez, a fireman tends to 10-year-old Horacio Castillo III and his parents after their rescue from a fire that engulfed their home in 2005.
Fireman recalls rescuing Atio, parents in 2005
MANILA, Philippines — Twelve years ago, University of Santo Tomas Law freshman Horacio "Atio" Castillo III had escaped death.
A fire officer on Thursday recalled his rescue of a family that was trapped in a burning house on Nakpil Street in Paco, Manila on Dec. 7, 2005.
One of the survivors in that blaze was a child — Atio.
"It's so heartbreaking to think that the 10-year-old kid that WE RESCUED in a residential fire that happened in Paco, Manila way back Dec. 7, 2005 became a victim of a fatal hazing... RIP Horacio Castillo III," Fire Officer 2 Lords Ramos Hernandez lamented in a post, with matching photos, on Facebook.
The fireman said the Castillo family had become close to him after his team rescued them from that fire.
Hernandez, an arson investigator for the Manila Fire Department at the time, said that earlier this year, he checked on the apartment where the Castillos used to live but was told by a caretaker that the family had transferred to Makati.
Last week, he was surprised to hear the news that the boy he had rescued had been found dead in Balut, Tondo.
Hernandez told radio station dzMM that the family was trapped on the roof deck of their three-story building when he and the Paco Fire Station responded to the scene.
He said the family was staying on the second floor and were trapped on the roof deck when firemen arrived in the area.
Hernandez said Horacio Jr., Atio's father, climbed the fence on the roof cradling his son who slipped from his arm and fell on the canopy of the building.
Atio's mother Carmina was unhurt because firefighters brought her down using a ladder, which they attached to the neighboring two-story building.
Hernandez, now the engine officer-in-charge of the Gagalangin fire station in Tondo, said he and the other firefighters who responded to the 2005 incident intended to visit Atio's wake Sunday night.
"Every fire rescue is an achievement not by myself but also of the whole fire department. Photos are important because all fire incidents have their own story," Hernandez said.