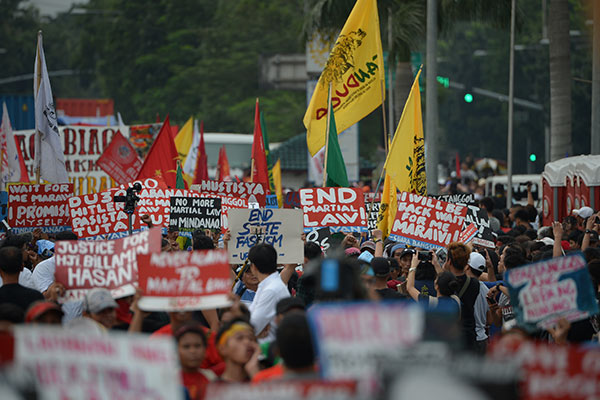 Thousands of anti-Philippine President Rodrigo Duterte protesters gather at a park in Manila on September 21, 2017, to commemorate the 45th declaration of martial law on September 21, 1972 by then president Ferdinand Marcos. Activists are holding a series of protests on September 21 to denounce drug war killings and what they say is a slide to tyranny under Philippine President Rodrigo Duterte. Ted Aljibe/AFP
Palace to September 21 protesters: Let's talk
(philstar.com) - September 24, 2017 - 11:16am
MANILA, Philippines — The Duterte administration remains open to a dialogue with groups that joined the anti-government protests last September 21, Malacañang said Sunday.
Thousands joined rallies for and against Duterte in various parts of the country last Thursday, which was declared by the president as a national day of protest.
The anti-Duterte protesters, which included groups associated with the opposition and the political left, condemned the alleged extrajudicial killings of drug suspects, the martial law in Mindanao and the supposed attempts to rehabilitate the image of the late dictator Ferdinand Marcos.
"The president is the leader of all Filipinos," presidential spokesman Ernesto Abella said in a statement.
"We have always kept the doors open for constructive dialogue with the strategic sectors of society, including those who do not share the stance of the administration on certain issues," he added.
The national day of protest coincided with the 45th anniversary of the declaration of martial law by Marcos.
The military rule, which was supposedly intended to counter the threats posed by communist rebels, was marred by human rights violations, enforced disappearances and warrantless arrests of individuals critical of the government.
Marcos' 20-year presidency was abruptly ended by the historic 1986 People Power Revolution, which installed Corazon Aquino, widow of the late opposition leader Benigno Aquino, Jr. to power.
Last year, Duterte allowed Marcos' remains to be buried at the Libingan ng mga Bayani (Heroes' Cemetery), stirring outrage among martial law victims and human rights groups.
Duterte justified his decision by saying that Marcos deserved the honor because he was a president, a lawmaker and a war veteran.
The Duterte administration is also facing sharp criticism over the spate of deaths tied to its war on illegal drugs, which has left thousands of suspected drug offenders, including teenagers dead.
Critics claimed that Duterte's tough talk has created an atmosphere of impunity and has encouraged vigilantism and summary executions.
The president has denied endorsing extrajudicial killings and abusive practices and has vowed to "slaughter" policemen who commit criminal acts.
He also defended the brutal crackdown on narcotics, saying the drug problem has contaminated four million people, allowed some politicians to stay in power and funded terrorism in Mindanao. — Alexis Romero