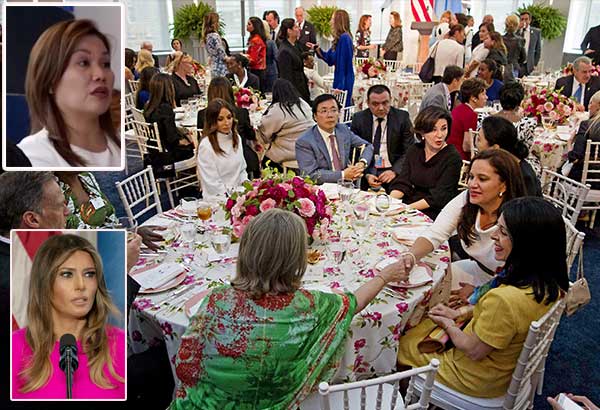 President Duterte's partner Cielito 'Honeylet' Avanceña (encircled and top inset) chats with spouses of world leaders during a United Nations luncheon at the US Mission in New York on Sept. 20. US First Lady Melania Trump (lower inset) hosted the event, which was held on the sidelines of the UN General Assembly. AFP
Honeylet joins first spouses at UN luncheon
MANILA, Philippines — President Duterte's partner, Cielito "Honeylet" Avanceña, joined Melania Trump and other presidential spouses in a luncheon on Sept. 20 hosted by the US first lady on the sidelines of the United Nations General Assembly in New York.
Avanceña's presence in the United States has raised questions because Duterte opted not to attend the UN General Assembly.
Malacañang maintained that Avanceña has "personal financial capacity" to fund her trip, including watching "Miss Saigon" on Broadway in Manhattan.
Presidential security escorts also accompanied Avanceña, but the Palace said she went to the US in her personal capacity upon the invitation of Mrs. Trump.
"She received an invitation to attend an event hosted by the First Lady of the United States and that she went on a personal capacity," presidential spokesman Ernesto Abella told reporters yesterday.
Asked why the trip was "personal" when Avanceña was invited to an event related to the UN activities, Abella said "they chose to act within those parameters."
"As far as I know, she was not part of the contingent, OK… I may be wrong regarding that matter, but as far as I know, she was not part of the list of contingent," he said.
Avanceña attended the event on the sidelines of the UNGA. The Department of Foreign Affairs confirmed that she was not part of its delegation.
As to the service provided by presidential security escorts to Duterte's partner, Abella said that "people of certain stature are given port courtesy without having to spend for them."
Avanceña was spotted in a background of a short video posted by Mrs. Trump in her official Twitter account with handle @FLOTUS about her advocacy against bullying and campaign for feeding hungry children.
Mrs. Trump hosted the luncheon on Sept. 20. She discussed bullying and called on world leaders to take their responsibility for guiding the next generation seriously.
Duterte drew flak from the UN for the summary killings of suspects and even minors in his war against drugs. In response, Duterte threw profanities and insulted the UN.
Duterte is legally separated from Elizabeth Zimmerman, the mother of Davao Mayor Sara Duterte-Carpio, Vice Mayor Paolo Duterte and Sebastian.
The President and Avanceña have a daughter.