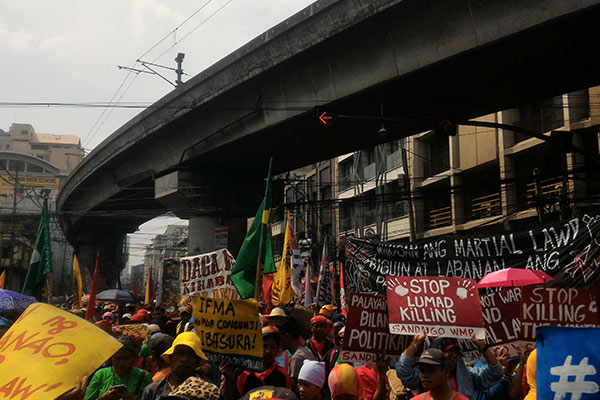 Protesters on Thursday called for an end to martial law in Mindanao and a stop to killings of Lumads. EC Toledo
Just 8,000 people at Luneta rally, police claim
(philstar.com) - September 22, 2017 - 8:10am
MANILA, Philippines — There were around 8,000 protesters at Luneta on Thursday night, Metro Manila police said, several thousand fewer than those who attended gatherings in support of the Duterte administration.
According to Director Oscar Albayalde, the total number of "anti-government" protesters who gathered at Luneta was around 7,500 to 8,000. Organizers of the Luneta rallies, held to protest extrajudicial killings in the government's campaign against drugs and to mark the 45th year since the commonly acknowledged date of the declaration of martial law, estimated the crowd to have been as large as 30,000 people.
Albayalde said that there were around 6,500 government supporters who converged at Plaza Miranda while another 3,500 supporters were at Mendiola. Some had arrived in buses from provinces outside Metro Manila. A contingent from Caloocan City also had streamers referencing local politicians
The Manila Police District earlier claimed that around 16,000 government supporters flocked to Plaza Miranda.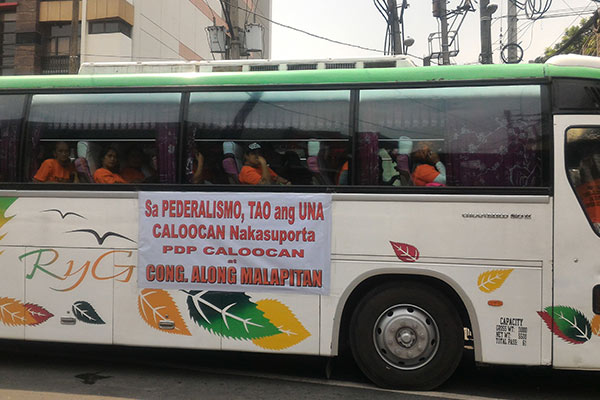 Duterte supporters from Caloocan aboard a bus. EC Toledo
The NCRPO has yet to respond to queries on how it estimates crowd size.
'Generally peaceful'
The simultaneous protests and activities conducted during the National Day of Protest in Thursday were "generally peaceful," Albayalde said.
"There was no report of any untoward incident from all five police districts," Albayalde said in a statement.
He added: "The protesters pro and anti government heeded our call to be calm and be vigilant of their ranks."
Thousands of protesters took to the streets Thursday, September 21, to demonstrate against what they see as the administration's authoritarian tendencies and the brutal crackdown on illegal drugs. The rallies were also
Several protests calling for an end to tyranny were held at Luneta Park in Manila, at the Mendiola peace arch and at the Commission on Human Rights.
Hundreds of riot police were deployed to secure the marches and rallies.
"I also extend my gratitude to all our men and women on the ground including our standby forces. Lahat kami ay nagbantas hanggang matapos ang araw na nagging maayos at tahimik naman," Albayalde said.