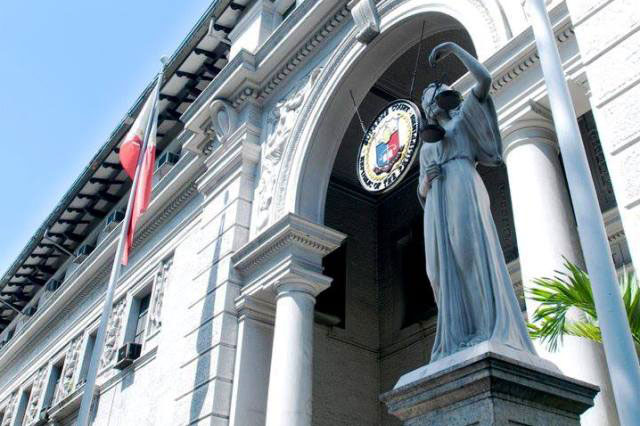 In a petition filed in February, De Lima asked the high tribunal to stop her indictment before the Muntinlupa City regional trial court (RTC) in connection with the illegal drug trade at the New Bilibid Prison. File
SC to rule on Leila petition vs drug indictment
Edu Punay
(The Philippine Star) - September 19, 2017 - 4:00pm
MANILA, Philippines — The Supreme Court (SC) will start deliberating next month on Sen. Leila de Lima's petition seeking her release from detention and a stop to her indictment on drug charges.
In yesterday's regular session, the justices decided to vote on the case on Oct. 10, an insider said.
In a petition filed in February, De Lima asked the high tribunal to stop her indictment before the Muntinlupa City regional trial court (RTC) in connection with the illegal drug trade at the New Bilibid Prison.
De Lima sought a temporary restraining order to stop the proceedings in the drug cases filed against her, and a status quo ante order on the arrest warrant issued last week by the Muntinlupa City RTC Branch 204, which would allow her release from detention.
Her petition, which was heard by the SC in oral arguments in March, raised issues on whether the cases against her fall under the jurisdiction of the RTC or the Sandiganbayan.
The Department of Justice (DOJ) indicted the senator before the Muntinlupa RTC, noting the drug cases fall under the exclusive jurisdiction of the trial courts.
De Lima argued the executive agency has no jurisdiction over the cases, saying these should have been forwarded to the Office of the Ombudsman.
She said the law states such charges should fall under the jurisdiction of the Sandiganbayan – not the RTC – because her position at the time was secretary of justice, which has salary grade higher than 27.
The senator also argued that the allegations against her do not constitute sale and trade of illegal drugs and liability of government officials under Republic Act 9165 or the Comprehensive Dangerous Drugs Act, but rather direct bribery.
De Lima cited political persecution, supposedly for being critical of the Duterte administration's war on drugs, as the reason for her indictment.
The case also raised the question of whether the petition was premature and violated the hierarchy of courts and the rule on forum shopping.
Solicitor General Jose Calida sought the dismissal of De Lima's petition, citing what he described as fatal infirmities.
Calida said the senator prematurely elevated her case to the high court and violated the hierarchy of courts since she has a pending motion to quash information before the Muntinlupa RTC, which seeks the same relief as her SC petition. – With Cecille Suerte Felipe