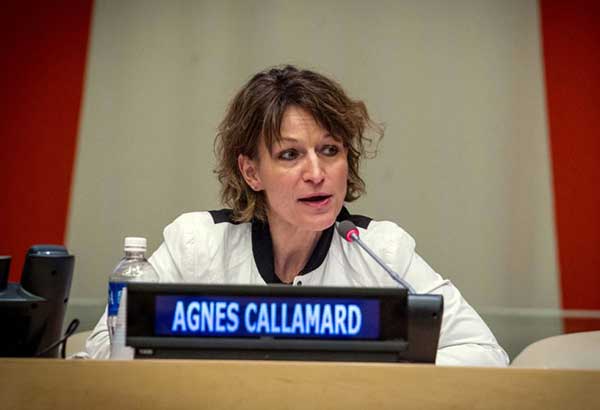 In an interview with French newspaper Liberation last week, Callamard said Delos Santos' death was another defining moment following intense criticisms against the campaign earlier this year with the death of a South Korean businessman at the hands of the police. United Nations/Loey Felipe, File
Callamard: Kian's death turning point in Duterte's drug war
Janvic Mateo
(The Philippine Star) - September 19, 2017 - 4:00pm
MANILA, Philippines — The death of 17-year-old Grade 11 student Kian Loyd delos Santos is a turning point in the Philippine government's campaign against illegal drugs, according to United Nations special rapporteur on extrajudicial killings Agnes Callamard.
In an interview with French newspaper Liberation last week, Callamard said Delos Santos' death was another defining moment following intense criticisms against the campaign earlier this year with the death of a South Korean businessman at the hands of the police.
"All the evidence before the public tends to show that it was executed by the police: the position of the body, bullets in the back, in the neck, shot at pointblank range, witnesses, cameras," Callamard said in French.
"We must investigate not only Kian's case, but (also) all the murders. All this demonstrates the importance of the independent investigation. There was a click. The President went to see the family. He should do it for all victims," she added.
Callamard noted "incoherence" in the recent statements made by President Duterte, noting the change of his tone regarding his support for police officers who are simply doing their job.
"The presidential speech becomes less coherent. He acknowledged that officers acting outside self-defense were guilty of murder, that the war on drugs did not succeed but at the same time it had to be continued," she said, adding that the Philippines seems to contravene its obligations for failing to investigate all cases of alleged summary executions.
"The lack of investigation constitutes a violation of the right to life. This right to life is the right not to be arbitrarily executed. The obligation of an independent inquiry is even stronger when it comes to murders committed by state officials," she said.
Callamard also maintained that she does not want to be exploited by Duterte by adhering to the Philippine government's demands that she swears to under oath and engage the President in a public debate.
"Under current conditions, a public debate in the Philippines would not be impartial. I would be in a situation of weakness, and with me the United Nations as a whole," she said.
"His strategy was to use the media, social networks and some raw language to get closer to its electoral base. It is out of the question that I enter this communication policy. I do not want to be exploited by Mr. Duterte," she added.