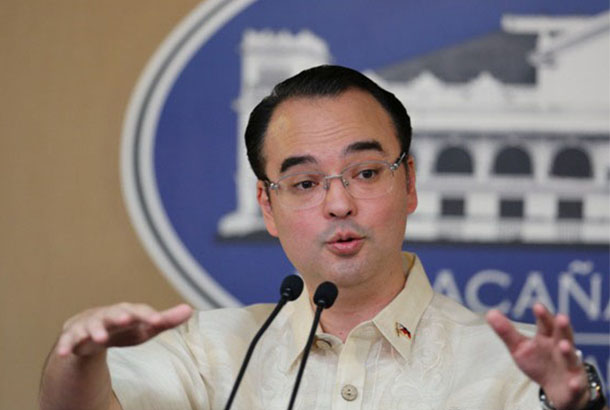 The Department of Foreign Affairs said Caye­tano will represent President Duterte at the 72nd Session of the United Nations General Assembly. It is Cayetano's first appearance on the world stage since his appointment last June. King Rodriguez/Presidential Photo, File
Philippines to explain drug war before UN
Pia Lee-Brago
(The Philippine Star) - September 19, 2017 - 4:00pm
MANILA, Philippines — Foreign Affairs Secretary Alan Peter Cayetano will raise the government's war on drugs and campaign against criminality during his address to the United Nations on Saturday.
The Department of Foreign Affairs said Caye­tano will represent President Duterte at the 72nd Session of the United Nations General Assembly. It is Cayetano's first appearance on the world stage since his appointment last June.
Cayetano will deliver the President's message for the international community to unite against terrorism, nuclear weapons and other common threats.
Philippine Permanent Representative to the UN Teodoro Locsin Jr. said Cayetano's statement is expected to touch on the need to address the threats posed by the Islamic State and the continuing missile test launches and detonations by North Korea.
Cayetano is also expected to share with UN member-states the efforts of the Duterte administration to protect the rights and promote the welfare of Filipino migrant workers as well as the ongoing campaign against criminality and illegal drugs.
The UN has repeatedly condemned the Duterte government's war on drugs that has seen a spate of summary killings of drug suspects and minors.
Zeid Ra'ad Al Hussein, UN High Commissioner for Human Rights, reported to the UN Human Rights Council Duterte's open support for a shoot-to-kill policy for suspects as well as the absence of credible investigations into reports of thousands of extrajudicial killings.
In August 2016, Duterte threatened to pull the Philippines out of the UN after facing criticism from the world body over his brutal crackdown on drugs and other crimes.
Locsin said Cayetano will also have bilateral meetings with his counterparts from Belgium, Colombia, Hungary, Ireland, Japan, Morocco, Norway, Poland, United Arab Emirates and the Vatican.