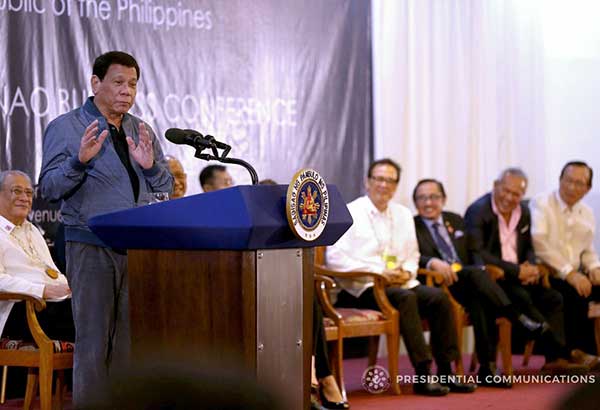 President Duterte said he is ready to close EDSA, the site of popular revolts that toppled the regime of former presidents Ferdinand Marcos and Joseph Estrada, but warned that the move could cause suffering among commuters. SIMEON CELI JR./PRESIDENTIAL PHOTO
Protest in peace, says Rody; no classes, work tomorrow
Alexis Romero
(The Philippine Star) - September 19, 2017 - 4:00pm
MANILA, Philippines — President Duterte yesterday called on protesters to hold their Sept. 21 rally in peace and they can occupy EDSA for as long as they want.
Duterte said he is ready to close EDSA, the site of popular revolts that toppled the regime of former presidents Ferdinand Marcos and Joseph Estrada, but warned that the move could cause suffering among commuters.
"If you tell me you'll stay there for three days, I'll give you five days. If you say you'd occupy it… you want to defecate, eat or sleep there, I'll give you two months," Duterte said.
"I can close EDSA. You can have it. I will just order the rerouting of traffic. The Filipinos will have to suffer," he added.
Duterte also challenged anti-government protesters to "produce the crowd" at EDSA, adding that he is ready to step down from his post anytime.
"If you want to make it a shrine of protest, tell me and I will close EDSA. Use the other routes," the President said.
"I'll just ask the military and police to walk. For emergency cases, if you are in Valenzuela, I'll ask the military to send a chopper and bring you to a hospital," he added.
"Go ahead, be my guest, I will just reroute the traffic."
The President declared Sept. 21 as a national day of protest after groups associated with the political left and the opposition bared plans to hold rallies to condemn the killings tied to the war on drugs and martial law in Mindanao.
Malacañang clarified that only classes in public schools and work in government offices would be suspended tomorrow.
Presidential spokesman Ernesto Abella said it would be up to private schools and companies to decide whether to suspend classes and work tomorrow.
"It is not a special non-working holiday and we expect the proclamation to be signed shortly. However, the acting executive secretary will issue a memorandum circular suspending work in government offices, both national and local, as well as classes in all public schools, state colleges and universities," Abella told a press briefing.
"Regarding private companies. Suspension of work in private companies and classes in private schools in the affected areas is left to the discretion of their respective heads," he added.
Confusion mounted on Monday after Duterte announced that he would not declare Sept. 21 a holiday but would suspend work and classes to allow the public to join protests.
Most private sector employers are unlikely to cancel work this Thursday, as they see no need for any additional reduction in the number of working days this year.
"We will go to work. Our member companies will likely not cancel work. There is so much holidays already," Employers Confederation of the Philippines (ECOP) president Donald Dee said.
The Philippine Chamber of Commerce and Industry (PCCI), meanwhile, said their member-companies might consider various upcoming protests and strikes in their decision to suspend work that day.
"It depends. The problem is we're considering the transportation strikes. We will see if the transportation strike pursues then we might call off work as to not burden our employees," PCCI president George Barcelon said.
Nonetheless, business groups appreciated Malacañang's decision to leave work suspension in the hands of the employers.
"It is much better that it's the discretion of the private sector because with so many holidays that we have, business operations will suffer if there will be additions," Barcelon said.
Opposition lawmaker Albay Rep. Edcel Lagman said Duterte's declaration of Sept. 21 as a "national day of protest" is a farce.
The declaration "virtually elevates the 45th anniversary of the imposition of martial law by the late dictator Ferdinand Marcos to a holiday," Lagman said.
"It is a holiday because there is no work both in the government and private sectors and classes at all levels are suspended," he said.
Lagman noted that in the past, instant holidays were declared to dissuade people from joining protests.
He surmised that this was also Duterte's goal in suspending work and classes.
However, Lagman said protest actions would continue as scheduled tomorrow.
"With or without any such presidential declaration, citizens and multi-sectoral groups are determined to protest the ignominy of the declaration of martial law 45 years ago with its crippling effects still damaging the country until now," he said.
"Moreover, Duterte's 'day of protest' is grossly tainted with insincerity because he openly idolizes the dictator Marcos," he said.
No drill
Duterte said the declaration was meant to provide anyone the opportunity to express their sentiments on the country's problems. He even claimed that he would hold his own protest action against low government pay and lack of facilities in state agencies.
"I will also protest because many yellows in the commissions are very corrupt," Duterte told state-run television station PTV 4, referring to the color associated with the opposition Liberal Party.
"I cannot remove them simply because they have a fixed term and security of tenure. That means you cannot just ask them to leave," he added.
Despite the suspension of government work, some agencies would be required to provide standby emergency assistance near sites of protest actions.
"Law enforcement authorities are directed to stay away from mass actions and to exercise maximum restraint, unless their intervention is necessary to maintain public order," Abella said.
At least 600 policemen will be deployed to secure the rally site in Rizal Park. Most of the policemen would come from the Manila Police District under Task Force Manila Shield.
National Capital Region Police Office (NCRPO) chief Director Oscar Albayalde said personnel from the Crowd Disturbance Management (CDM) would also be deployed some 100 meters away from the rally site to prevent a violent confrontation between two opposing groups.
Militant organizations and groups associated with the opposition are set to stage rallies tomorrow to condemn the killings linked to the Duterte administration's war on drugs, the supposed efforts to "rehabilitate" the image of the late dictator Ferdinand Marcos and martial law in Mindanao.
Another group supporting Duterte would also stage a separate rally at the Don Chino Roces Bridge to show their support for the President.
Defense Secretary Delfin Lorenzana has said the possibility of imposing martial law in the entire country is remote but Duterte had warned that he would not hesitate to do so if communists sow violence and commit crime in the streets.
Lorenzana ordered the National Disaster Risk Reduction and Management Council (NDRRMC) to suspend the scheduled national simultaneous earthquake drill on Thursday.
"President Duterte has declared Sept. 21 as a National Day of Protest and in effect has announced the suspension of classes and work in government offices," NDRRMC spokesperson Romina Marisagan said.
With work in government offices and classes suspended Thursday, pushing through with the national earthquake drill will have lesser participants, thus defeating the purpose of ensuring maximum public participation.
As this developed, the Presidential Security Group (PSG) apologized for an online post stating that classes and work in Metro Manila are suspended on Nov. 12 to 15 because of the 31st Association of Southeast Asian Nations (ASEAN) Summit. – With Jess Diaz, Jaime Laude, Non Alquitran, Ding Cervantes, Rhodina Villanueva, Richmond Mercurio, Cecille Suerte Felipe