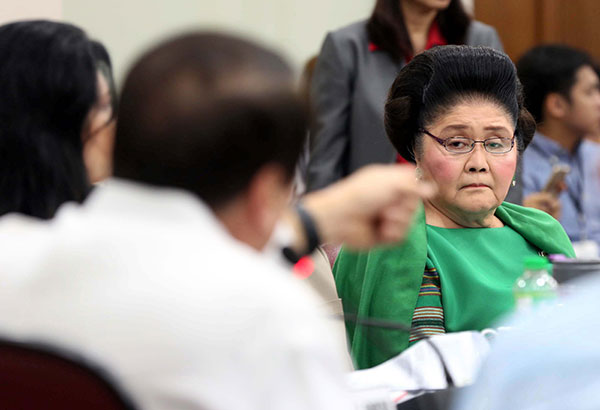 Former first lady and incumbent Ilocos Norte Rep. Imelda Marcos must be convicted on 10 counts of graft for allegedly maintaining financial interests in Swiss foundations during her term as Batasan assemblywoman and Metro Manila governor, the Office of the Ombudsman maintained yesterday. Boy Santos, File
Ombudsman wants Imelda convicted in Swiss case
MANILA, Philippines — Former first lady and incumbent Ilocos Norte Rep. Imelda Marcos must be convicted on 10 counts of graft for allegedly maintaining financial interests in Swiss foundations during her term as Batasan assemblywoman and Metro Manila governor, the Office of the Ombudsman maintained yesterday.
In a 28-page memorandum submitted last Aug. 29 before the Sandiganbayan Fifth Division, the ombudsman's prosecution team enumerated the evidence admitted by the court, which they have presented in the course of the trial of the cases which ran for 17 years from January 2000 to March 2017.
Filed by the ombudsman in December 1991, the cases stemmed from Marcos' alleged creation of several private foundations in Switzerland and holding of financial interests in various private enterprises from 1976 to 1986 when she was the minister of Human Settlements and the concurrent Metro Manila governor and from 1978 to 1984, even while she was a member of the Interim Batasang Pambansa.
The prosecution said Marcos violated Section 3 (h) of Republic Act 3019, which prohibits public officials from having financial or pecuniary interests in any business, contract or transaction in which he or she has the official capacity to intervene.
The Presidential Commission on Good Government had earlier identified a total of $658-million deposits in the conjugal Swiss dollar accounts of Marcos and her husband, the late president Ferdinand Marcos Sr.
The prosecution said the Marcos couple created secret foundations and bank accounts in Switzerland and Liechtenstein to allegedly funnel illegally amassed government funds during martial law.
Among the evidence offered by the prosecution were the testimonies of former solicitor general Francisco Chavez, former Central Bank governor Jaime Laya, former Philguarantee chairman Cesar Virata, former Philguarantee president and CEO Victor Macalincag.
From January 2000 to July 2012, Chavez testified on several documents from Swiss banking institutions acquired by the Office of the Solicitor General in the course of the case build-up against Marcos.