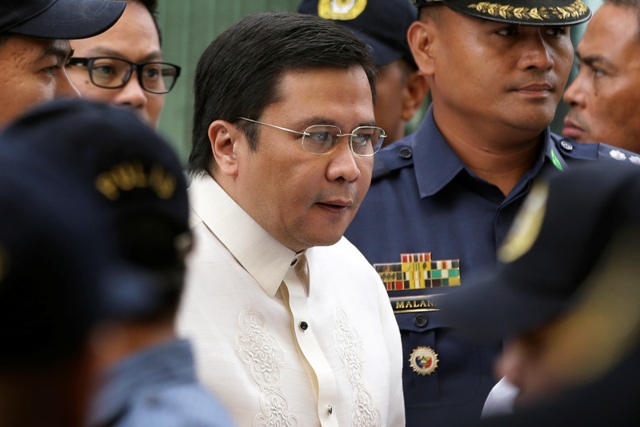 Former senator Jinggoy Estrada has not yet been approached by the Department of Justice to serve as state witness in the allegedly anomalous Disbursement Acceleration Program of the previous administration. AP/Aaron Favila, File
Jinggoy: No talks yet as DAP witness
MANILA, Philippines — Former senator Jinggoy Estrada has not yet been approached by the Department of Justice to serve as state witness in the allegedly anomalous Disbursement Acceleration Program of the previous administration.
"Wala akong alam doon (I don't know anything about that). I haven't heard of anything. Nobody has talked to me about it," Estrada told journalists after appearing before the Sandiganbayan Fifth Division yesterday.
The formal trial of Estrada's plunder case in connection with the pork scam was supposed to start yesterday. It was deferred to next week for lack of quorum as one of the three justices composing the Fifth Division was on sick leave.
After more than three years, Estrada was released from detention on Saturday after the Sandiganbayan granted his motion for bail.
He posted P1.33-million bail bond for plunder and 11 counts of graft.
Justice Secretary Vitaliano Aguirre II on Sunday told The STAR that Estrada could "be used as a state witness in the investigation and possible cases on the DAP anomaly."
A task force has been created by the DOJ to investigate the previous Aquino administration on the alleged DAP anomaly.
Former president Benigno Aquino III earlier said the DAP was implemented to accelerate public spending and to spur economic growth.
The Supreme Court in 2014 found several acts under DAP as "unconstitutional," such as the declaration of unobligated funds as "savings" and the cross-border transfer of funds to other offices outside the executive.
"I don't know yet. Let's just cross the bridge when we get there," Estrada said when asked if he is willing to be a state witness in the supposed anomaly.
"But I have a privilege speech about that," he added.