Duterte still refuses to sign bank waiver, but admits co-owning bank account with Sara
September 18, 2017 | 2:08pm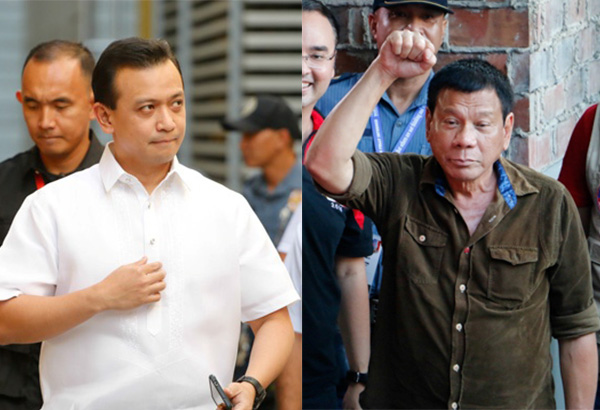 MANILA, Philippines — President Rodrigo Duterte on Monday continued to refuse to sign a waiver that would allow the scrutiny of his alleged bank account containing hundreds of millions of pesos as he again vowed to step down from the presidency if it would be proven that he owned that large amount of money.
Duterte, speaking at a convention of state attorneys, reiterated his willingness to step down should Sen. Antonio Trillanes IV or any of his critics prove that he indeed had more than P200 million deposited in the branch of the Bank of Philippine Islands in Julia Vargas, Pasig City.
The chief executive said that he had already signed a waiver last year when the allegation first surfaced at the height of the campaign period for the national elections, but this was not used.
Duterte was referring to the special power of attorney he signed in May 2016 allowing Salvador Panelo, then one of his campaign lawyers, to request and accept documents from the BPI's Julia Vargas Branch to show that the alleged account of the then Davao City mayor did at no time contain P211 million.
However, this document was insufficient as this would not be able to show the transaction history of the account, according to Trillanes, a claim Panelo denies.
"I signed a waiver hindi naman ginamit. Ngayon pa-signin mo ulit ano inuuto-uto mo ako? Swerte ka," Duterte said.
He also challenged the Anti-Money Laundering Council and the Philippine central bank to file a case against him if he was indeed engaged in money laundering, a practice of concealing the origins of illegally obtained money through transactions with banks or legitimate businesses.
"If it's money laundered if it runs to P211 million then my God, AMLAC, you do something about it or else I will do something about you," the president said.
Duterte admitted that he co-owned a bank account with his daughter, Sara Duterte-Carpio, containing P500,000.
"Ako meron ako. Ang co-depositor ko anak ko kasi kung madisgrasya ako meron kaagad magamit ang pamilya," the president said, referring to Duterte-Carpio, adding that he did not create accounts with his two sons because they were more interested in having a good time.
Duterte and Trillanes, a very fierce critic of the chief executive, have been exchanging accusations about illegally obtained wealth and foreign bank accounts these past few weeks.
This started when Trillanes tagged Paolo Duterte, the president's son, and Manases Carpio, the Duterte's son-in-law, in the illegal entry of billions worth of illicit drugs through Manila's ports.
Trillanes also detailed in a Senate panel hearing several bank accounts that the younger Duterte and Carpio allegedly owned containing hundreds of millions of pesos.
Duterte shot back last week and accused Trillanes, known as the gadfly of Philippine politics, of owning offshore accounts hiding the senator's illegal wealth. Trillanes signed 12 bank waivers to allow the AMLC and the ombudsman to look into the said foreign accounts.
The president said that the pieces of land that was written about during last year's campaign season was inherited by him and passed on to his children.