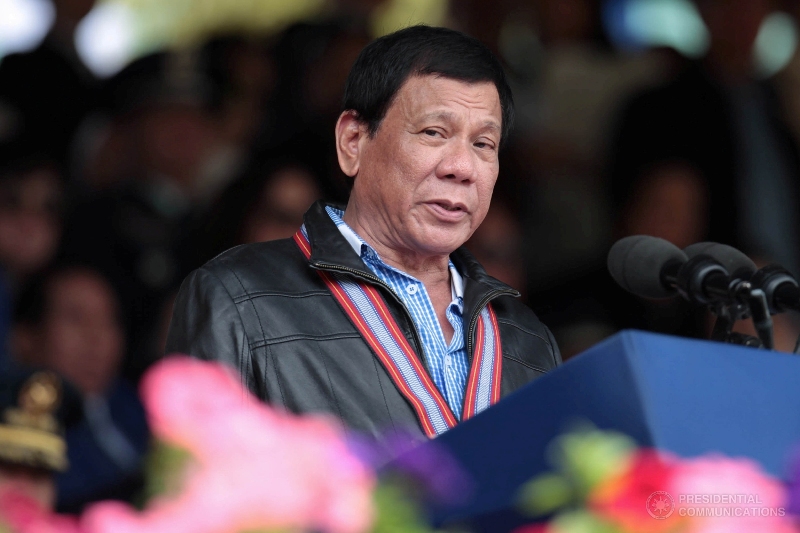 President Rodrigo Duterte apologized anew for the deaths of innocent civilians and expressed support for the relief of the 1,200 members of the Caloocan City police, which have been under fire because of the killing of Delos Santos and Arnaiz. Presidential Photo/Albert Alcain, File
War on drugs to march on — Rody
Alexis Romero
(The Philippine Star) - September 17, 2017 - 4:00pm
MANILA, Philippines — The bloody war on illegal drugs would continue despite the mounting criticism against it, President Duterte said, even as he clarified that the crackdown does not target innocent teenagers.
Duterte's brutal campaign against narcotics and crime is under intense public scrutiny following the deaths of 17-year-old Kian delos Santos, whom witnesses said was executed by Caloocan policemen, and 19-year-old Carl Arnaiz, who was accused of robbing a taxi driver.
Duterte said the death of teenagers should not disrupt the crackdown, one of the campaign promises that helped him win a landslide victory during the 2016 election.
"Let me be very clear on this. When I was campaigning, I said that I would kill anybody who would destroy my country and would kill you if you kill the youth of the land. I am referring not to teenagers without a sin. I'm referring to organized crime," the President said in a speech in Davao City last Saturday.
"Hindi mahinto 'yang patayan (The killings will not stop). Because I will tell them, the big-time, I am after for your neck or necks. There will be no compromise," he added.
Duterte apologized anew for the deaths of innocent civilians and expressed support for the relief of the 1,200 members of the Caloocan City police, which have been under fire because of the killing of Delos Santos and Arnaiz.
"With regard to the deaths, I'm sorry. But it had to happen. I'm sorry that there are policemen who are deaf and maybe taking shabu or involved in shabu trade because the entire Caloocan police was relieved," the President said.
Duterte said policemen are aware that they cannot kill people whose hands are tied as well as those who have already surrendered to them.
The tough-talking President said he would not back down on his campaign against illegal drugs, a problem that he said would jeopardize the future of the country.
"I will fulfill my promises to the Filipinos. Just because there are some people who died there, and even teenagers, it doesn't mean to say you have to stop. We cannot stop. Otherwise, I will throw this country to the dogs," Duterte said.
"Either you accept it as a fact of your life now, today or you will die of exasperation, or you can kill me if you want. Feel free to do it but I won't hold back. I will not be remembered as the President in whose time the Philippines went to the dogs because of drugs. I can't accept that," he added.