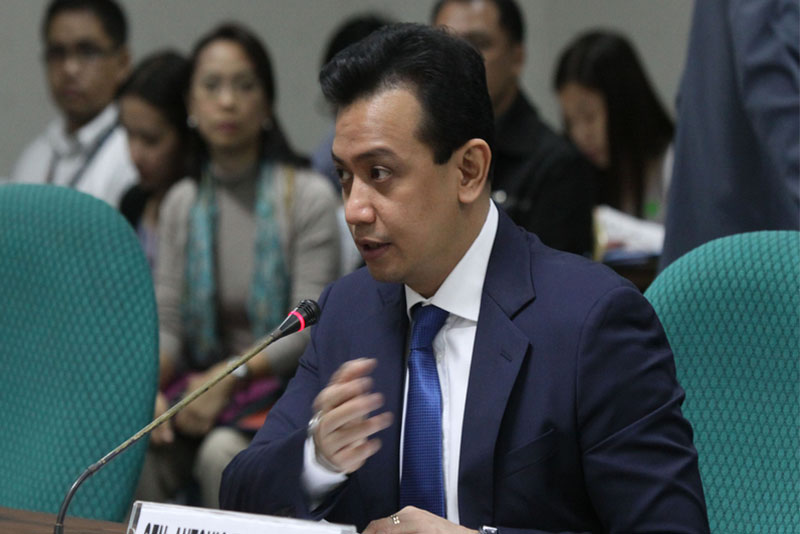 Responding to the latest allegations made by President Duterte against him, Trillanes said the Philippines never lost Panatag (Scarborough) Shoal as repeatedly claimed by Duterte, especially not during the time that he was conducting backchannel talks with China. Sen. Antonio Trillanes IV/Released
Trillanes denies earning money from China talks
Marvin Sy
(The Philippine Star) - September 16, 2017 - 4:00pm
MANILA, Philippines — Sen. Antonio Trillanes IV denied yesterday reports that he made money during his back-channel negotiations with Chinese officials during the previous Aquino administration and that what he achieved there was to defuse tension between the Philippines and China over the West Philippine Sea dispute.
Responding to the latest allegations made by President Duterte against him, Trillanes said the Philippines never lost Panatag (Scarborough) Shoal as repeatedly claimed by Duterte, especially not during the time that he was conducting backchannel talks with China.
"It was part of our victory in the arbitral tribunal. I have said time and again that my role as back-channel negotiator was limited to the de-escalation of tension in Scarborough Shoal," Trillanes said.
According to the President, Trillanes started accumulating money during those trips he made as the back-channel negotiator and that he opened bank accounts in various countries including Singapore and Switzerland.
The President said that many of the accounts opened by Trillanes were joint accounts and used names such as Antonio Trillanes, Trillanes Jr., the second and the third so that he could deny ownership of these.
Trillanes has been saying that Duterte and his allies were sloppy in coming up with those bank accounts and forgot to use the fourth suffix of his name.
"That's the thing, if those were my accounts, why was there no 'IV' attached to the names? They made a basic blunder. They even forgot that I was the fourth (IV)," Trillanes said.