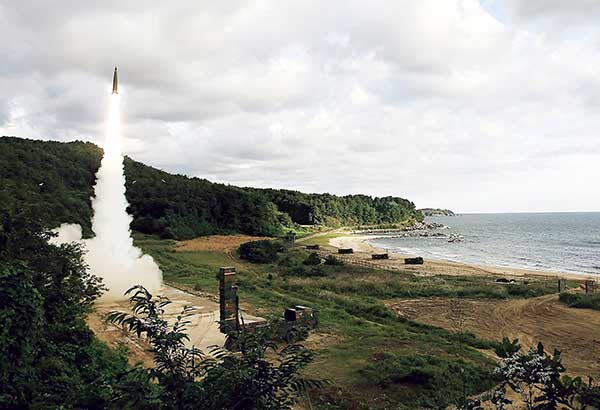 Photo provided by the Defense Ministry in Seoul shows a South Korean Hyunmu-2 missile being fired into the East Sea from an undisclosed location during a live-fire exercise yesterday aimed to counter North Korea's missile tests. AFP
Philippines airs concern as NoKor fires missile over Japan
MANILA, Philippines — Defense Secretary Delfin Lorenzana has expressed concern over North Korea's missile launch over Japan the other day that landed in the Pacific Ocean, admitting that the Philippines is relying on defense allies to intercept the missiles.
"Now, I'm going to tell you what the President said: Anong magagawa natin (What can we do)? We cannot shoot the missiles, so that it will not come here… Kung oras mo na, oras mo na (if it is your time, it is your time)," Lorenzana said in press breifing at Malacañang yesterday.
"It's very fatalistic eh. So maybe, that's not good. Hindi niyo matanggap na ganun (you cannot accept it for what it is). But that is how the President looks at these things," he added.
Lorenzana also admitted that the Philippines does not have bomb shelters in case a full-blown war erupts.
He expressed hope that the missiles would be intercepted by the country's defense allies like the United States, Japan and South Korea before they reach their intended targets.
While the Armed Forces has its modernization program, the defense chief admitted that the Philippine military is helpless over Pyongyang's move.
"Their technology's not accurate. Or they might be aiming for some other, but it will drop into another country like the Philippines. Even the President is very much concerned about these missiles from North Korea," he said.
"Eh kung bumagsak 'yan sa Luneta, anong magagawa natin? At meron 'yang warhead na mga 100 kiloton of TNT (What if it fell on Luneta, what can we do? And it has a warhead of 100 kilotons of TNT)," Lorenzana said, quoting the President.
"So what can we do? We cannot start digging now, digging air raid shelters. We just pray and hope that the missile will drop somewhere there in the Pacific Ocean.
"So natatakot tayo diyan (we are scared of it). Very concerning," the defense chief added.
Evacuation plans are on standby, but no possible military response.
"What we're doing now is, we have some plans, if something happens in the Korean Peninsula in case of a battle… how to evacuate the Filipinos there," Lorenzana said.
"We have about 26,000 Filipinos working in Korea. So that's a big problem if ever. And in the event the target is Guam, we still have a lot of Filipino-Americans there in Guam that we'd like also to evacuate," he added.