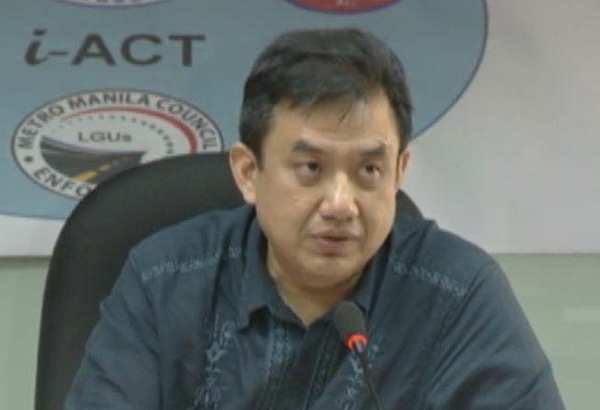 Transportation Undersecretary Tim Orbos hopped on a habal-habal or motorcycle-for-hire to get to an "important event" at the Bonifacio Global City (BGC) in Taguig on time yesterday. File
MMDA exec rides illegal habal-habal to beat traffic
MANILA, Philippines — Traffic made him do it.
Transportation Undersecretary Tim Orbos hopped on a habal-habal or motorcycle-for-hire to get to an "important event" at the Bonifacio Global City (BGC) in Taguig on time yesterday.
The habal-habal, however, has been banned, and Orbos' boss, Department of Transportation Secretary Arthur Tugade, was not amused. The DOTr chief expressed his displeasure with a mouthful worthy of his boss the President.
"I was really bothered, if not alarmed, by the statement of Usec. Tim Orbos na p****g i** naghabal-habal siya ... bawal ho ang habal-habal sa kalsada (that he took a son of a b***h habal-habal… it is against the law)," Tugade said.
He stressed that he would not tolerate the use of habal-habal as an excuse for making it to an important function on time.
Orbos, undersecretary for road transport and infrastructure and also the general manager of the Metropolitan Manila Development Authority (MMDA), said he just finished a meeting with mall operators to discuss traffic measures for the upcoming Christmas season when he decided to take a motorcycle-for-hire so he would not be late for a DOTr event – the signing of a memorandum of agreement (MOA) on the interoperability of toll collection systems.
It was the first time in his life, he said, that he took such a mode of transport, which is also prohibited by an ordinance inside the BGC in Taguig City.
Orbos stressed that the MOA signing is important to the secretary so he could not afford to be late.
"First time that I ride habal-habal, nasubukan ko ho 'yun ... may dumaang motorsiklo, kinausap ko, pwede ba ako sumakay? (I tried it… a motorcycle passed by, I asked the driver if he would allow me to ride with him). This is how important it is for the secretary," Orbos declared before starting his speech, eliciting laughter from other transportation officials.
But Tugade said he would penalize Orbos for violating a traffic ordinance.
He stressed that the DOTr, being a member of the Inter-Agency Council on Traffic (IACT), is designated to look for measures that will alleviate traffic problems in the metropolis but taking a habal-habal is not among these.
"I don't like it, Mr. Orbos. We should not at all cost allow or encourage the use of habal-habal," Tugade said.
"I just have to say that, that is not along the line and the paradigm of government functions and governance that we have to do at the Department of Transportation," he added.
The MOA signing was attended by officials of the Toll Regulatory Board, Land Transportation Office, Department of Public Works and Highways, Bases Conversion and Development Authority, Metro Pacific Group, San Miguel Group and Ayala Group of Companies.
Sought for comment on Tugade's remarks, Orbos told reporters that the issue was nothing to him and that there was no bad blood between him and the secretary.
He did not reply to The STAR when asked if he was aware of the city ordinance in Taguig.
Meanwhile, the MMDA will train and deputize the security personnel of all malls in the metropolis when Christmas time comes.