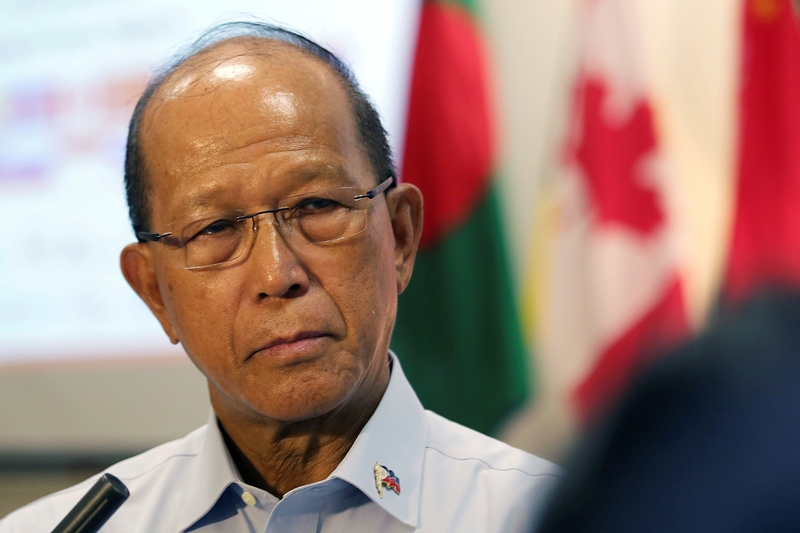 Defense Secretary Delfin Lorenzana earlier said that in the absence of anti-missile capability, the Philippines can only monitor regional security developments amid mounting tension between the US and North Korea. AP/Wong Maye-E, File
Lorenzana: Latest North Korea missile launch 'a very dangerous act'
(philstar.com) - September 15, 2017 - 8:35am
MANILA, Philippines — "That is a very dangerous act by the North Korea."
This was how Defense Secretary Delfin Lorenzana described North Korea's latest missile launch on Friday on the heels of fresh international sanctions against the rogue state after it carried out its sixth and most powerful nuclear test to date on September 3.
South Korean and Japanese officials on Friday said Pyongyang fired an intermediate range ballistic missile that overflew Japan before landing in the Pacific Ocean east of Japan.
Speaking to reporters in Malacañang, Lorenzana said North Korea's action was "very concerning."
"They keep flying those… sending those missiles up without any reason siguro except to scare us here, the neighboring countries," he said.
Citing Pyongyang's "not accurate" technology, the Defense chief did not rule out the possibility of a North Korean missile hitting other countries, including the Philippines.
"They might be aiming for some other, but it will drop into another country like the Philippines. Even the president is very much concerned about these missiles from North Korea," he said.
"So natatakot tayo diyan. Very concerning. Sabi nila,, eh, bumagsak diyan sa Luneta, eh anong mangyayari sa Manila?... Ten times as powerful as the one dropped in Hiroshima. Eh 'di ten times din 'yung destruction," he added.
Contingency plans for Pinoys in Korea
"And so what we're doing now is meron tayong ginagawang plan to — if something happens in the Korean Peninsula, magkaroon ng bakbakan diyan, on how to evacuate the Filipinos there."
Lorenzana earlier said that in the absence of anti-missile capability, the Philippines could only closely monitor with concern the ongoing regional security developments amid mounting tension between the US and North Korea.
This was after North Korea threatened Washington that it would strike at the US territory of Guam, which is home to about 42,800 overseas Filipinos.
"So what can we do? We cannot start digging now, digging for air raid shelters. We just pray and hope siguro that the missile will drop somewhere there in Pacific Ocean," Lorenzana said.
In August, the Armed Force of the Philippines said the chances of missile debris hitting the Philippines is remote.
On Monday, the United Nations (UN) Security Council slapped North Korea with stiffer sanctions on top of previous ones that hit the country's exports of iron ore, coal, and seafood.
The new sanctions were condemned "in the strongest terms" by North Korea, which branded the UN Security Council's resolution as "illegal and unlawful," according to Reuters.