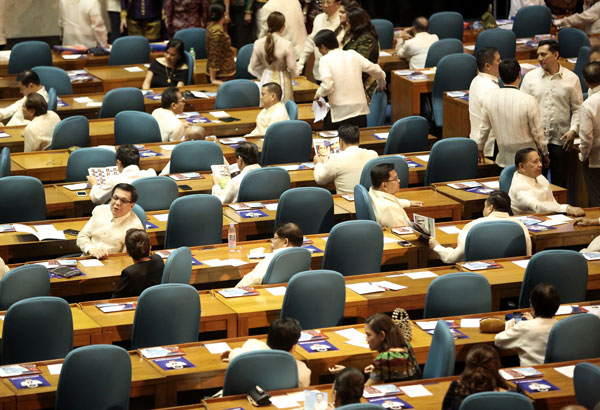 The P3.767-trillion 2018 national budget congressmen approved Tuesday night contains at least P19 billion in pork barrel funds for lawmakers, budget watchdog Social Watch said yesterday. Philstar.com/AJ Bolando, File
Watchdog: 2018 budget contains P19-B 'pork'
Jess Diaz
(The Philippine Star) - September 14, 2017 - 4:00pm
MANILA, Philippines — The P3.767-trillion 2018 national budget congressmen approved Tuesday night contains at least P19 billion in pork barrel funds for lawmakers, budget watchdog Social Watch said yesterday.
"The pork barrel may still be alive even after the Priority Development Assistance Fund (PDAF), a lump sum allocation fund found in earlier budgets, has been declared unconstitutional in 2013," the group said.
"With lump sums still tucked in key agencies, the practice of pork barrel politics remains possible," it said.
It urged the Senate to check these appropriations and realign them to programs and projects for the poor.
Social Watch named the Department of Health (DOH), Department of Social Welfare and Development (DSWD), Department of Labor and Employment (DOLE), Technical Education and Skills Development Authority (TESDA) and Commission on Higher Education (CHED) as some of the agencies where pork barrel funds are embedded.
In the DOH, there is P4.342 billion for "assistance to indigent patients either confined or outpatient in government/specialty/LGU (local government unit) hospitals, Philippine General Hospital and West Visayas State University Hospital."
Some P3.4 billion is lodged with the DSWD for "protective services for individuals and families in difficult circumstances," while P1.2 billion is with the DOLE-office of the secretary for "Tulong Pangkabuhayan sa Ating Disadvantaged/Displaced Workers Program."
Under TESDA, there is P3.2 billion for "promotion, development and implementation, monitoring and evaluation of technical skills development scholarship."
Social Watch said there are lump sums that could be open to intervention by lawmakers.
It said there are billions in projects that are itemized under the DOH facilities enhancement program and Department of Public Works and Highways where senators and congressmen could also have a say or influence.
In November 2013, the Supreme Court struck down the annual P25-billion PDAF as unconstitutional, citing its being lump sum whose details were provided by members of Congress after the budget reenactment.
This means lawmakers had a role in project implementation, which should purely be an executive function.
The PDAF allocated P200 million for each senator and P70 million for each House member.
Since 2013, there has been an unwritten rule that the same allocations would be retained provided they are itemized or given to agencies willing to consider referrals from lawmakers.
Budget Secretary Benjamin Diokno earlier said there was nothing wrong for lawmakers to endorse projects, programs and activities for funding by agencies before the approval of the annual budget.
Social Watch also urged senators to scrutinize lump sum funds, particularly the P13-billion contingent fund, which it said includes a provision that it could be used to augment President Duterte's travel expenses.
It noted that the House rushed the approval of the 2018 budget, but stressed that early passage "doesn't necessarily mean it's a good budget."