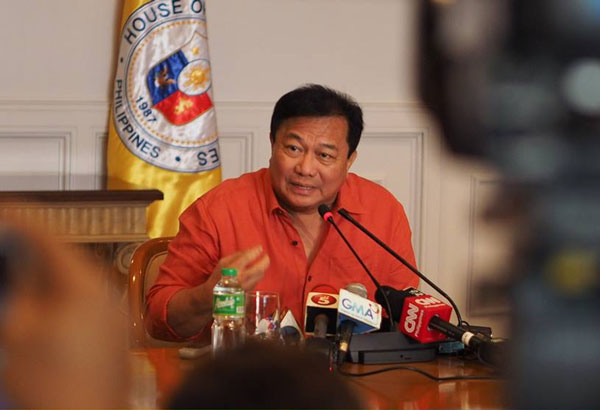 Speaker Pantaleon Alvarez yesterday joined calls for a probe on the series of alleged summary killings to determine if these were done by government detractors. Facebook/Speaker Pantaleon Alvarez, File
Speaker seeks probe of 'sabotage' in teen killings
MANILA, Philippines — Speaker Pantaleon Alvarez yesterday joined calls for a probe on the series of alleged summary killings to determine if these were done by government detractors.
In an interview with CNN Philippines, Alvarez said the objective of detractors is to discredit the Duterte administration's war against drugs, which he claims has been very successful.
"We really need to investigate because we are seeing the process of deliberately killing minors. So what is the motive here? It is clear, for the people to get angry at the administration. It is to show that it was done by the administration, that is foolishness," said Alvarez, a supporter of President Duterte.
Alvarez also echoed Duterte's claim that the killing of minors is a deliberate plot to discredit the war against drugs, which has seen hundreds of summary killings since Duterte took office.
Alvarez said drug lords might be behind the effort to sabotage the government's anti-drug campaign. Another factor, he added, could be political as the opposition and other critics want to force Duterte out of power.
House Majority Leader Rodolfo Fariñas said it would be Alvarez's call to initiate a probe.
Parañaque Rep. Gus Tambunting, another ally of the Duterte administration, welcomes the probe.
"Whatever the motive, murder, especially the murder of our youth, can never be justified. We join the Speaker in his call for the truth to come out regarding this issue," he said.
Davao City Rep. Karlo Alexei Nograles, chairman of the House committee on appropriations, said the appointment of former Philippine Drug Enforcement Agency chief Isidro Lapeña as new Customs commissioner means that the President is serious against drug smuggling.
Nograles added that Lapeña's entry to the Bureau of Customs shows that Duterte wants the new commissioner to "look into and stop the importation of drugs" as well as determine the reason the agency is letting such contraband get through.
Sanctuary, not obstruction of justice
Meanwhile, Caloocan Bishop Pablo Virgilio David yesterday asked Justice Secretary Vitaliano Aguirre II how providing sanctuary to witnesses in a crime could constitute obstruction of justice.
Aguirre, in an earlier radio interview, warned the prelate and those who have taken custody of witnesses to the killing of 17-year-old Kian Loyd delos Santos that they might face criminal charges.
The custody of the four children had been transferred from the Senate to Bishop David after the witness was presented during the legislative inquiry into Delos Santos' death.
Aguirre said witnesses, especially in high-profile criminal cases, must be placed under the witness protection program of the Department of Justice as provided by law.
But David said the witness and the siblings – two adults and four minors – sought the protection of the Catholic Church. – With Evelyn Macairan, Cecille Suerte Felipe