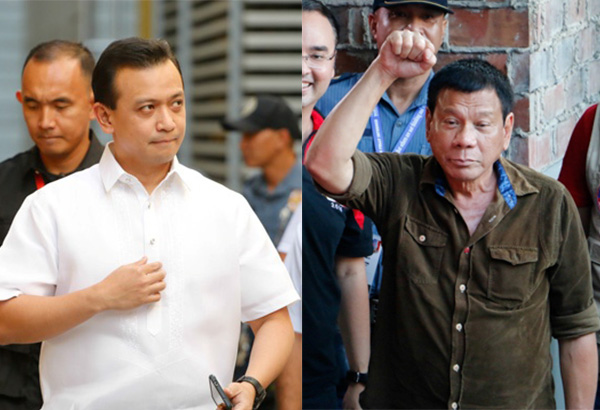 Sen. Antonio Trillanes IV signs bank waivers and challenges President Rodrigo Duterte to do the same. Philstar.com/Efigenio Toledo IV, File
After signing bank waivers, Trillanes tells Duterte: I will destroy your lies with truth
MANILA, Philippines (First published at 4:30 p.m. on Sept. 11) — Sen. Antonio Trillanes IV on Monday signed waivers for each foreign bank account he allegedly owned and challenged President Rodrigo Duterte to do the same as the trade of accusations between the two continues to escalate.
Over the weekend, the tough-talking Duterte threatened to expose the clandestine foreign bank accounts of Trillanes which allegedly contained the senator's hidden wealth.
This presidential threat came days after Trillanes exposed in a Senate investigation that the son and the son-in-law of Duterte had several local bank accounts containing hundreds of millions of pesos.
"This is the biggest blunder na ginawa nito ni Duterte. Dinala mo itong away sa teritoryo ko. Hindi ka pwedeng tumindig sa akin dito," he said in a media conference.
Trillanes said that the chief executive's accusations were all lies and vowed to fight these with the truth.
"I will destroy your fabricated information, but with the truth," Trillanes declared.
Trillanes said that over the weekend information on his alleged 12 bank accounts circulated on the internet through the page of broadcast journalist Erwin Tulfo, the blog of Assistant Secretary Mocha Uson and Davao Breaking News, a page allegedly maintained by a certain Ben Tesiorna.
Bank waivers were issued for all these accounts, according to Trillanes, paving the way for a scrutiny by the Anti-Money Laundering Council and the Office of the Ombudsman.
"Lahat nung mga binigay na accounts na nakuha natin dito sa mga sources na ito ay gumawa ako ng tig-iisang waiver. Pinirmahan ko ito duly notarized at received by the Anti-Money Laundering Council at yung sa Ombudsman nandun na rin," he said.
Trillanes challenged the president to also issue waivers that would open the bank accounts he allegedly owned to an investigation.
"Ako naman ibabalik ko kay Duterte yung hamon. Nagparatang ka sa akin pumirma ako ng waiver. Nagparatang ako sa'yo isang taon mahigit na iniiba mo yung usapan," he said.
He added: "Kung matapang ka kung hindi ka corrupt pumirma ka ng waiver kagaya ng ginawa ko ngayon, pumirma ka addressed sa AMLAC, addressed sa Ombudsman. Kung talagang hindi ka kurakot."
Despite the challenge, Trillanes said that Duterte would not issue the said documents as, the senator said, the president is afraid of the truth.
"Itong manugang mo sa Mans Carpio, itong anak mo si Paolo Duterte tumakbo rin nung pinapaharap ko ng waiver," he said.
Trillanes also blasted the authenticity of the said banks and bank accounts.
He said that it was not only the bank accounts which were spurious but also the banks themselves.
He said that there were no financial institutions named Nova Scotia Bank nor Hong Kong Shanghai Bank.
"Hindi lang nonexistent accounts kundi nonexistent banks. Ganito po ka-glaring itong fabrication na ito," he said.
Trillanes called Duterte an outright liar and accused him of using government resources to destroy the opposition.
In a speech in Cagayan De Oro City on Saturday night, Duterte slammed Trillanes and accused him of having bank deposits "all over."
Trillanes is proving one nasty thorn on the side of the president and his family.
During last year's national campaign, the senator accused former Davao City mayor of owning more than P200 million in deposits in a bank in Pasig City not reflected in his Statement of Assets, Liabilities and Net worth.
Then in a Senate panel investigation into how billions of illegal drugs managed to pass through Manila's port undetected, Trillanes challenged Paolo, the president's eldest son and the vice mayor of Davao City, and Manases Carpio, Duterte's son-in-law and husband of Davao City Mayor Sara, to sign a bank waiver to allow a scrutiny of the bank accounts the senator alleged to be containing hundreds of millions of pesos.
The two declined the senator's challenge.