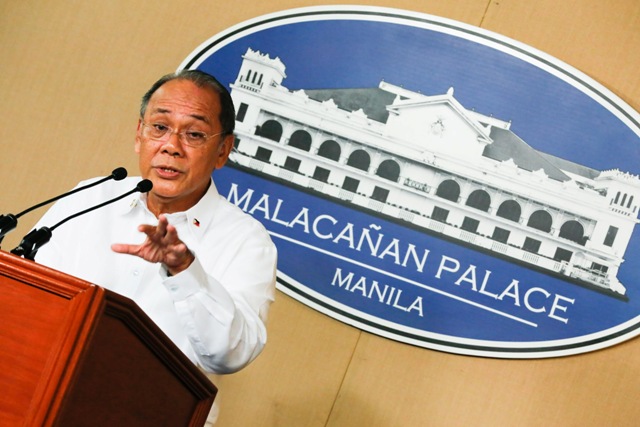 Presidential spokesman Ernesto Abella said that since the anti-criminality campaign is the centerpiece program of the Duterte administration, the Palace does not rule out the possibility that some groups may conspire to sabotage the campaign. Presidential Photographers Division/Toto Lozano, File
Palace: Drug war saboteurs 'not a figment of imagination'
(philstar.com) - September 11, 2017 - 8:00am
MANILA, Philippines — President Rodrigo Duterte's recent claim that certain people are "sabotaging" his war on drugs is not just a product of his imagination, Malacañang insisted on Monday amid public anger over the killings of three teens in separate police operations.
"Well, the president himself has said that he is being sabotaged. It cannot just be a figment of his imagination," Presidential Spokesperson Ernesto Abella said in a press briefing.
"I'm sure there are certain elements, there are certain personalities out there who are actively engaged in — who may — who apparently are actively engaged in discrediting the president's campaign," Abella added.
The president's spokesperson did not elaborate.
Duterte made the claim in his speech in Davao del Sur last week, where he reiterated his order to Philippine National Police Director General Ronald "Bato" Dela Rosa to look into the deaths of Kian Loyd delos Santos, 17; Carl Angelo Arnaiz,19, and Reynaldo de Guzman, 14. Caloocan City cops are being implicated in the killing of delos Santos and Arnaiz.
'See with a second eye'
While the deaths of the minors are "regrettable", Abella said the cases "should be seen with a second eye."
The Palace spokesman also denied that Duterte was "clearing" the police officers involved in the killing of the teenagers when the president floated the possibility of saboteurs moving to discredit the drug war.
"But it should be subjected to proper investigation. However, the president himself has introduced that idea, that insight. It seems that at this stage there are probably those who are involved in making sure that the campaign — his campaign is actually discredited," Abella said.
Duterte easily won the race to Malacañang last year on a platform of weeding out crime and corruption by taking on a national level the tough measures he imposed during his long mayoralty in Davao City, including his bloody war on drugs.
The campaign remains hugely popular, according to surveys, despite condemnations from human rights watchers at home and abroad. Duterte has also thrown his extraordinary support behind the police force carrying out the crackdown, promising to pardon them if they are convicted to keep them out of jail.
But with the killing of Delos Santos, Duterte ordered the arrest of the policemen linked to the killing.
The outrage also prompted Duterte to meet Delos Santos' parents in Malacañang and assured them of justice.
Duterte also reached out to the Arnaizes, to whom he claims to be distantly related because they both have roots in Maasin, Southern Leyte.