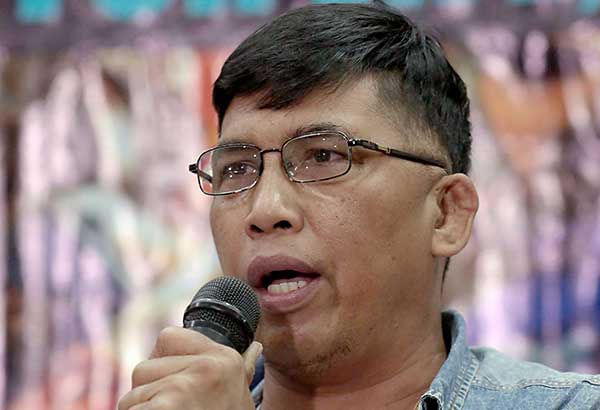 Taxi driver Tomas Bagcal holds a press conference in Quezon City yesterday. MICHAEL VARCAS
Cabbie: Carl taken to police car, shot
Rey Galupo
(The Philippine Star) - September 10, 2017 - 4:00pm
MANILA, Philippines — He had gone missing for several days after a taped interview of him came out. Yesterday, taxi driver Tomas Bagcal surfaced and described as scripted his previous statement that 19-year-old former University of the Philippines student Carl Angelo Arnaiz died during a shootout with Caloocan policemen.
During the press conference arranged by Rise Up for Life and for Rights, a group of church people and human rights advocates, Bagcal said he had turned over Arnaiz to the police alive, contrary to his earlier statement that the teen fought it out with the police after robbing him.
In his narration of what transpired on Aug. 18 in Caloocan City, Bagcal said Arnaiz indeed robbed him of his wallet but he managed to fend off the teenager's gun when it failed to fire.
Bagcal showed a scar on his wrist as he supposedly got wounded when Arnaiz hit him with his gun and then got off the car.
Bagcal said he then chased and cornered the suspect near a street where there were tricycle drivers, who, together with a barangay watchman, beat up the robber.
The driver said the suspect, a young man in a black jacket and a cap, was taken to the police station and later placed inside a cell.
He said Police Officers 1 Jeffrey Perez and Ricky Arquilita then brought out the robber to their mobile car. One of the policemen, an Ilocano, rode with Bagcal in his taxi, then released Arnaiz near the robbery site.
A few seconds later, Bagcal heard shots and saw a man fall.
Pressed for more details about what happened next, Bagcal said he would reveal more information at the proper forum.
He said being a father himself, he would help obtain justice for Arnaiz and his family. "It is also painful to me," Bagcal said.
Contradiction
Bagcal's new statement contrasts with his taped interview done in the morning of Aug. 18 inside the police station. The recording was acquired by The STAR.
In the interview, Bagcal narrated how Arnaiz hailed his cab at around 3 a.m. in Navotas City.
"When we reached 5th Avenue, he became restless. He was looking left and right. When we reached a dimly lit portion (on) C-3 Road, Barangay 28, he drew his gun and declared the heist," Bagcal said.
Arnaiz allegedly took the driver's wallet containing P450 and hit his hand with a caliber .38 revolver before jumping out of the cab, Bagcal narrated.
Bagcal said he drove toward C-3 Road looking for the nearest police precinct. He chanced upon a group of men on the street and asked them for directions.
"They asked me why and so I told them that I had been robbed. They asked several questions, and then spread out on four separate motorcycles. Two men went to the direction of 5th Avenue, two counter-flowed along C-3 Road, while the four others went to Dagat-Dagatan Avenue," he said.
He said it was the tandem of Perez and Arquilita who took C-3 Road and chanced upon Arnaiz running in the direction of Navotas.
"Pinutukan daw sila Sir eh. (He allegedly fired at them). Pinutukan sila Sir. (He fired at them). Eh siyempre ano'ng reaksyon ng mga pulis natin? Nakipagbarilan na rin. Patay," (What would be the reaction of our policemen? They fired back. He was killed,)" Bagcal narrated in his first affidavit.
More revelations to follow
Rise Up said they accepted Bagcal's request for protective custody and have provided him sanctuary.
The group members said the taxi driver and his family contacted them on Sept. 4 and told them about his desire to tell everything he knew about the alleged shootout that occurred on Aug. 18.
Rise Up and its lawyers said Bagcal was willing to reveal details at the proper forum, including the Senate.
Bagcal said his previous two statements, which bore his signature, did not reflect what really transpired because he was not the one who made them.
He said the police only "asked me my name, age, and the OR/CR (official receipt and certificate of registration) of the taxi" when the statements were being prepared.
Bagcal said he sought the group's assistance after police visited his residence when he asked them to correct his first affidavit. There was a second affidavit that he also supposedly did but which bore inconsistencies.
"Rise Up has responded in the affirmative to the request of the family for protective custody and provided sanctuary during the period of Mr. Bagcal's serious discernment, soul searching, and firm decision-making," the group said.
Caloocan police shocked
Meanwhile, the Caloocan police expressed shock over Bagcal's revelation.
"Here comes another problem. This is a really dire development. But we will stick to what we have... the spot report, the affidavits," a ranking police official, who asked not to be named, said.
The official said they are still reeling from the case of Kian Loyd delos Santos and the latest development "would really bring down the morale of our men."
Delos Santos, 17, was believed executed by members of the Caloocan City police during an anti- drug operation in their area on Aug. 16. Several witnesses and CCTV footage showed Delos Santos being dragged by two policemen, which tended to belie police claims that he was shot dead after he resisted arrest and opened fire.
The official refused to comment on Bagcal's newest statement.