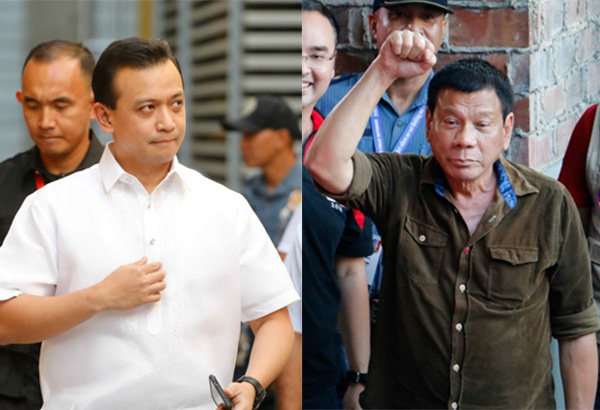 This time, President Rodrigo Duterte has threatened to "destroy" his critic Sen. Antonio Trillanes IV as he vowed to expose the lawmaker's alleged irregularities including the hiring of hundreds of consultants and maintainance of offshore bank accounts. Philstar.com/Efigenio Toledo IV, File
'I destroy Trillanes or he destroys me'
(The Philippine Star) - September 10, 2017 - 4:00pm
MANILA, Philippines — A similar threat was once issued to Sen. Leila de Lima, who is now in jail.
This time, President Duterte has threatened to "destroy" his critic Sen. Antonio Trillanes IV as he vowed to expose the lawmaker's alleged irregularities including the hiring of hundreds of consultants and maintainance of offshore bank accounts.
Duterte said Trillanes has gone too far with accusations against him and his family.
Trillanes has accused Duterte of amassing ill-gotten wealth and has linked his son Davao City Vice Mayor Paolo Duterte and son-in-law Manases Carpio to the smuggling controversy in the Bureau of Customs. Last week, Trillanes said Paolo has a tattoo on his back that would prove membership in the Chinese triad or organized crime ring.
President Duterte has dismissed the allegations as "garbage."
"He has been at it against me, my son and my family since election. The campaign period is over and I thought all the while, politics is just like that," the President told reporters in Cagayan de Oro last Saturday, referring to Trillanes. "But he is bent on destroying me. So I destroy him or he will destroy me. That's the way it is."
Duterte had made a similar threat against another critic, De Lima, who is now in jail on drug-related charges.
Last year, Duterte vowed to "destroy" De Lima, who had ordered a Senate investigation into the spate of killings linked to the government's crackdown on illegal drugs.
He then accused De Lima of having an illicit affair with her married driver, accepting bribes from drug lords and allowing the proliferation of narcotics at the Bureau of Corrections.
De Lima denied the allegations and has accused the Duterte administration of political persecution.
Duterte claimed that Trillanes has offshore bank accounts in Hong Kong, China, Australia and the United States.
"He (Trillanes) got garbage but what I got is not garbage. I am from the government. Why would I need garbage? All we have to do is to get the goods on him… Matagal na 'yan hawak ko (I gathered that information a long time ago). But you know, medyo sumosobra na kasi (he has gone a bit too far)," he said.
The President also accused the senator of hiring more than 200 consultants in relation to his disbursement acceleration program funds.
"I am a lawyer, just looking at it. Inubos niya sa pamigay (he gave them all away) and he will have to answer also," he said.
Trillanes has denied the allegations and accused Duterte of spreading "fake news."
Duterte calls his critics 'idiots'
Duterte said Trillanes and Magdalo Rep. Gary Alejano, another opposition lawmaker, are embarrassing themselves by showing their supposed ignorance of the law.
"The government is wasting money on you. You do not know the law yet you continue with your tirades. You are all idiots," the President said, noting that the two were graduates of Philippine Military Academy being funded by the government.
Duterte mocked Trillanes for asking Paolo to show his tattoo during a Senate hearing on drug smuggling. The senator had claimed that a tattoo on the vice mayor's back proves that he is a member of a drug triad. But the younger Duterte refused to show his tattoo, invoking his right to privacy.
The President showed reporters his rose tattoo and his number as a member of the Guardians Brotherhood. He said his daughter Davao City Mayor Sara Duterte and youngest son Sebastian also sport tattoos.
He said Sen. Gringo Honasan, a member of the Reformed the Armed Forces Movement, also has a tattoo on his hand. RAM is a group of rebel soldiers that launched coups against former president Corazon Aquino.
"I was once a member of RAM in the early days… Look at the tattoo of Greg Honasan. Have it decoded. Tell Greg that b**** wants to have those drawings decoded," Duterte said.
"You brought those issues in the Senate…You cheapened the institution," he added.
Duterte claimed that Trillanes has been using the Senate hearing to spread hearsay.