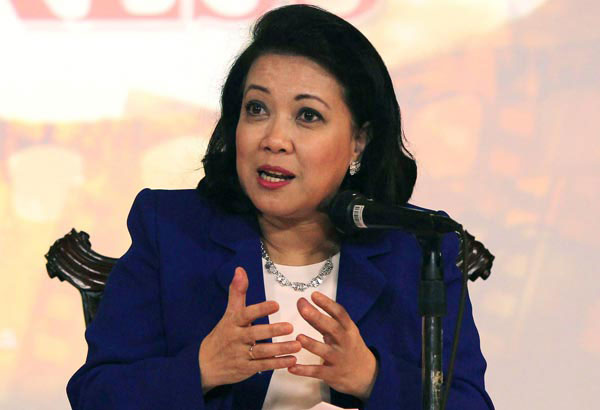 The justices, he said, relayed to him they will appear voluntarily even if they are not invited once the House of Representatives start its proceedings on the substance of the complaint. File
'3 more justices may testify vs Sereno'
MANILA, Philippines — Lawyer Lorenzo Gadon claimed yesterday that three more justices of the Supreme Court are willing to testify against Chief Justice Ma. Lourdes Sereno in the impeachment case.
Gadon did not reveal the names of the three justices whom he said are senior associate justices.
The justices, he said, relayed to him they will appear voluntarily even if they are not invited once the House of Representatives start its proceedings on the substance of the complaint.
"They want to save the judiciary," Gadon said in a news forum in Quezon City when asked for the reasons of the three magistrates.
This means that at least six justices of the SC are willing to testify against Sereno, Gadon said.
He earlier revealed at least three other magistrates will testify provided they are invited by the House.
Gadon filed an impeachment complaint against Sereno for her alleged anomalous purchase of a luxury vehicle worth P8 million.
Citing documents, he said lone bidder Toyota Makati Inc. was awarded the contract to deliver the sports utility vehicle, based on Resolution No. 2017-02 of the SC Bids and Awards Committee for Goods and Services (SC-BAC-GS) signed on Feb. 21 by SC-BAC-GS chair Thelma Baha and vice chair Eden Candelaria.
The vehicle was bought for P5.1 million, said Gadon, but P3 million more was spent for its bullet-proofing.
Gadon said he will obtain by Monday copies of Sereno's statements of assets, liabilities and net worth (SALNs) from 2010 to 2017.
Among the documents he will present are Sereno's expenses for her trips abroad.
"There was an abuse of authority because of her travel expenses," said Gadon, adding that Sereno had included people in her entourage who are not needed.
He also intends to file a motion for reconsideration before the Judicial and Bar Council (JBC) to release the psychological and psychiatric evaluation results of Sereno.
The JBC rejected Gadon's request, citing Secton 3, Rule 6 of the Revised JBC Rules, which stated that these records are strictly confidential.
Gadon insist the results should be considered public since Sereno is a public official.
"The doctor and patient relationship doesn't really apply because the test was done for the purpose of ascertaining whether a particular candidate is qualified for the position or not and this position is that of a public official," he said.