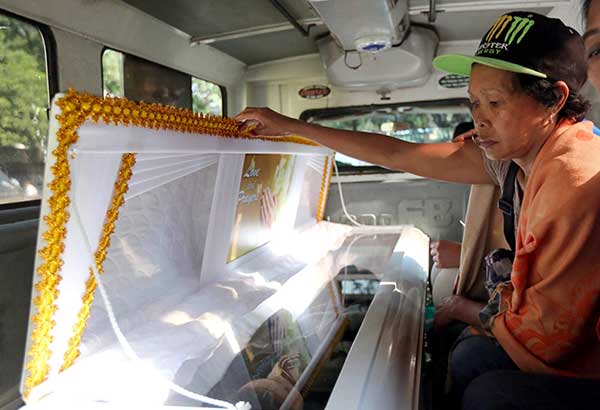 "Gigil na gigil po ang pumatay sa kaniya. Sana po mahuli. Bigyan niyo po siya ng kaparusahan na bitay para wala nang problema. Mauulit at mauulit pa ang ganiyang krimen sa ibang kabataan (I am very angry at those who killed him. I hope they will be arrested. Give them a death sentence so there won't be a problem anymore. This crime will happen again and again to other youth)," Lina said. BOY SANTOS, File
'Death penalty for Kulot's killers'
MANILA, Philippines — The parents of Reynaldo "Kulot" de Guzman, who was found dead with at least 26 stab wounds in a creek in Nueva Ecija, yesterday appealed to President Duterte to impose the death penalty on the killers of their son.
Reynaldo's mother Lina said that her 14-year-old son's killers deserve to die to save innocent children.
"Gigil na gigil po ang pumatay sa kaniya. Sana po mahuli. Bigyan niyo po siya ng kaparusahan na bitay para wala nang problema. Mauulit at mauulit pa ang ganiyang krimen sa ibang kabataan (I am very angry at those who killed him. I hope they will be arrested. Give them a death sentence so there won't be a problem anymore. This crime will happen again and again to other youth)," Lina said.
Lina also said that she will only be at peace if the government will be able to give justice to her son.
"Nanawagan po ako sa inyo na sana po mabigyan ng hustisya ang aking anak para po matahimik ang kaniyang kaluluwa (I am appealing for justice for my son for his soul to be at peace)," she added.
On Friday, Eduardo Gabriel said his family, through the Public Attorney's Office, are seek a meeting with the President to personally ask help in seeking justice for his slain son.
Reynaldo was with Carl Angelo Arnaiz, a 19-year-old who was accused by the Caloocan police of robbing a taxi driver. They left the Arnaiz residence on the evening of Aug. 17 to buy snacks.
Arnaiz was found dead with five gunshot wounds and bruises in Caloocan City 10 days after he went missing, while De Guzman's body was found in a creek in Gapan City, Nueva Ecija last Tuesday. He had at least 26 stab wounds and his head was wrapped in packing tape.
Reynaldo's wake is in San Andres, Cainta, Rizal. He will be buried on Tuesday, but his family cannot yet say where.
Cainta Mayor Keith Pasion Nieto gave financial assistance to Reynaldo's parents for his wake and burial. Nieto also deployed security personnel in the neighborhood following reports of suspicious men roaming around the area.
"As soon as all are done, we will extend legal assistance to them," Nieto added.